BODYQ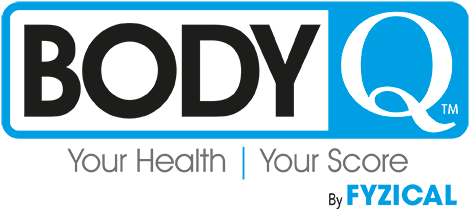 The numbers you use to measure your health are about to change. Now, in addition to cholesterol, blood sugar and blood pressure levels, you'll want to keep track of your BODYQ®. It's a new test revolutionizing the way you track your physical fitness and strength, developed by FYZICAL.
Visit the locations page to find a clinic that offers BodyQ near you.
---
About BodyQ
Major advances have occurred recently with a testing program that gives doctors and therapists information to keep patients healthy and functioning independently to the best of their abilities throughout their lives. This testing program is called BODYQ®.
As genetic testing offers you power of information about your inherent risk for disease, BODYQ® offers you power of information about your risk for injury, dysfunction and falls.
The power of knowing where you stand in terms of your total-body strength, balance, movement and posture will help you detect and prevent injury, illness, and even death.
BODYQ® is an integrated testing program addressing movement, function, general health, vision, hearing, balance, and recovery. Its primary function is to save you injury and damage down the road. The test will also help you in other ways, whether you want to increase your energy levels, recover from injury or illness, run your first 5K, lose 10 pounds, or just feel stronger. BODYQ® testing can jump start you on the way to achieving your goals.
"The general public has never had a test to assess individual skills and risks with this level and power of information. This test could make a huge difference in a person's life." – Keefe Fugleberg, FYZICAL Sarasota
You can't get there, unless you know where you are beginning.
---
Recommended by Doctors
I saw a patient today who complained of leg pain. Normally, as an ENT physician, I would not have thought about his symptoms, but today, after taking BODYQ®, I urged him to go to FYZICAL. I told him I thought Fyzical would make a huge difference in his life.
Dr. Art Schwart, ENT, JD
BODYQ® is a novel and informative process for determining your whole body health. Because it assesses posture, muscle tone, hearing, vision, balance and flexibility, everyone can learn something from this test. A trained FYZICAL therapist will be able to identify at least one aspect that can be improved in each individual.
Dr. Rhonda Deems
BODYQ® testing was a rewarding experience. My deficiencies were pointed out as a result of the test, and I was given advice on how to improve these areas with simple home exercises. I would like to return again to see if my scores improve!
Dr. Braun Graham