YOUR FIRST VISIT: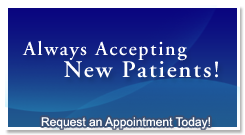 Your first therapy visit will be 45 minutes. You will meet with your therapist and a treatment plan will be established so that you may meet your physical or occupational therapy goals. Each of your following appointments will be between 40 minutes. Your doctor and therapist will determine how many times a week you will need to attend therapy. You should arrive 20 minutes early so that the front office staff can organize your paperwork and make the necessary copies of your insurance cards.
WHAT YOU NEED TO BRING:
Insurance card/s

Driver's License

Prescription from your physician for therapy services

Records from your previous doctor, a list of your medications, allergies and a list of prior doctors
WHAT YOU WILL NEED TO WEAR:
Loose, comfortable clothing

Bring or wear appropriate shoes for exercising (if applicable)
HOW LONG WILL I NEED THERAPY?
You will need to attend physical therapy sessions until you and your therapist decide that you have reached your desired level of function or that further therapy would not be beneficial. Often therapy will also be monitored by your physician.
WHEN WILL I SEE IMPROVEMENT?

Again that depends on the same factors associated with how long treatment will take. We make a treatment plan for you, which includes follow up and regular maintenance visits to our physical rehab clinic. If at any point you feel like you are not progressing at a satisfactory rate, we will collaborate with you and modify your treatment plan. We will always keep you informed as well about your progress.
WILL YOU KEEP IN CONTACT WITH MY DOCTOR?

After your initial evaluation we will send a copy of the examination to your doctor along with progress notes at regular intervals.
WILL I SEE THE SAME PT EVERY TIME?
We will make every attempt to schedule you with the therapist you desire to see. However, there may be times when another physical therapist or physical therapist assistant will treat you to accommodate your schedule. All of our physical therapists and assistants are fully-licensed or certified and enjoy delivering high-quality care.
PAYMENT:
Payment is due at the time of each service

The front office staff will advise you of your financial responsibility on your first visit, if not before

We accept cash, checks, debit cards, VISA, MASTERCARD, and DISCOVER
DO WE ACCEPT MEDICARE?
Yes, we are a Medicare provider. Medicare covers 80% of physical and occupational therapy services. The remaining 20% is the patient's responsibility unless you have a supplemental insurance. As a courtesy we bill all secondary insurances. Currently there is a Medicare cap in place for outpatient therapy services.
DO WE ACCEPT PRIVATE INSURANCE?
We will accept any insurance and bill as a courtesy to our patients. We participate with most health insurance plans; however it is very important to call for benefits prior to attending therapy to ensure that services will be covered. We will call to verify your benefits for you.
HOW DO I KNOW WHAT MY INSURANCE WILL COVER?
As a courtesy to our patients we will call to verify your benefits for therapy services. Please remember that a verification of benefits IS NOT a guarantee of payment. We are often quoted incorrect information and can only relay what we are told by your insurance company. It is always a good idea for you to call to verify this information.
DO I NEED A PRESCRIPTION OR REFERRAL FROM MY DOCTOR?
All Medicare patients require a prescription for therapy services. Prescriptions are valid for 30 days following the date of the script. Private insurance companies may or may not require that you obtain a prescription. Some require a direct referral from your primary care physician (PCP). In all cases, it is important to call to verify this information with your insurance prior to starting treatment.