Get moving on the Banks-Vernonia State Trail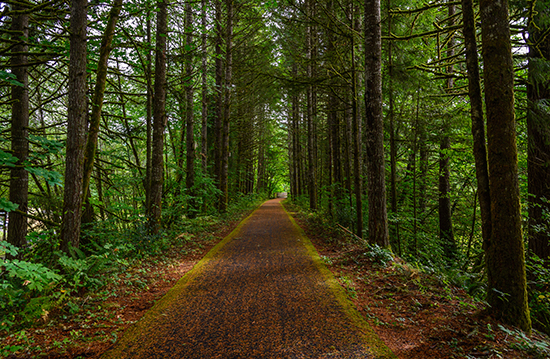 If you are like most Americans, you're not exercising or moving nearly enough. And this pandemic isn't helping. Am I right? So what better time to soak up the local beauty while getting healthier.
If you're a little unsure — of either the nature part or the exercise part — the beautiful Banks-Vernonia Trail is a great place to start. Talk to your doctor or FYZICAL physical therapist about any restrictions to exercise, otherwise read on to learn about:
the Banks-Vernonia State Trail
the ideal range for getting the most health benefits from exercise
the picturesque trestle that is only steps from one of the parking lots
More about the trail
The Banks-Vernonia Trail, aptly named for the towns at each endpoint, is a multi-use recreation trail created from a former railroad line. Six parking lots along the 21-mile paved trail provide easy access for walkers, runners, horseback riders, cyclists and anyone on non-motorized vehicles.
Mostly flat, the tree-lined trail takes you through forests, fields, and farmland. Really, you need to check out this little gem. You might spot horses, goats, and your favorite birds as you meander over creeks and through L.L. Stub Stewart State Park. If you're not up for any hills, then avoid the sections north of Stub Stewart near the Tophill Trailhead parking lot.
The trail map and park information can give you more details on how to reach the trail, the parking lots and other important information.
Is it good for beginner exercisers or families with small kids?
Actually, it's perfect! Be alert for cracks or breaks in the pavement on occasion, but otherwise, the path makes for a smooth outing. A few restrooms are positioned at some trailheads, but check the Oregon State Parks website for the latest information on any closures.
Which section would be a good first-time walk?
The picturesque trestle is a short walk from the Buxton Trailhead parking lot off Bacona Road in Buxton. Start an out-and-back walk from here, finishing with a snack at a picnic table either at the parking area or below the trestle. Note: The walk to the area below is gravel/dirt and has a gentle grade, but you will be rewarded with a grassy area and a lovely view of the trestle above!
How much exercise do I really need?
If you're not exercising at all, The American Heart Association suggests you start out with 10-15 minutes at a time and build your way up gradually. Frankly, sometimes just sitting less is a good start.
The goal for maximizing health benefits is to get at least 150 minutes of moderate to vigorous activity per week.
This looks like:
Walk for 15 minutes before breakfast and before dinner, on every weekday
Run for 50 minutes, 3 days per week
Walk or bike for 30 minutes, 5 days per week
Walk for 15 minutes every weekday morning and two 40-minute bike rides
If this seems like more than you can handle, don't worry. Just take it one step at a time — with a few of these steps on the local Banks-Vernonia State Trail. You won't regret it.
Beth Jennings, PT is a freelance health writer and a physical therapist of more than 20 years.