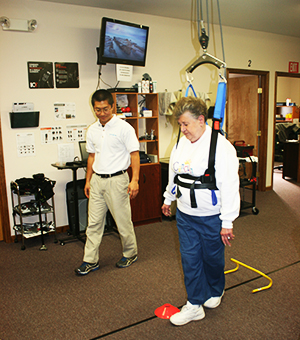 What is Physical Therapy?
Physical therapy is a way to get you back in shape, relieve pain in all parts of the body, offers vestibular rehab, improve balance and gait issues, better health, playing with your kids and or grandkids, improve your golf swing, be able to enjoy life to the fullest.

What is the goal of Physical Therapy?
The goal of Physical Therapy is to improve, restore or strengthen your body and health, ease or get full relief of pain, balance and gait training, vestibular rehab and by improving those you improve your mind set which leads to a happier healthier life.
Physical Therapy can help with relieving pain in all parts of the body, every day activities, reaching for something from the top shelf, being able to walk up one or two stairs, spine and posture, doing a load of laundry, playing with the children, grandchildren in the yard, all the daily activities we take for granted, staying healthy, achieving health goals, balance, pain management, improving your ability to walk, run, workout and get you back to an active life.
What does a Physical Therapist do?
Your Physical Therapist will…ease your pain through hands on techniques; teach you how to move correctly so you won't injure yourself (again), align your hip/pelvic area to relieve discomfort, help you avoid having knee surgery by teaching you how to strengthen the muscles, joint movement, balance and gait training, evaluate and treat spine and improve your posture to get you back to being you.
Physical Therapy almost always includes exercise. It can include stretching, working with weights, manual therapy, therapeutic exercise, gait training, mechanical traction, electrical stimulation, massage therapy, yoga, ultrasound, nutrition and so much more.

Your Physical Therapist may use hands on techniques, myofascial release and or decompression (cupping), ultrasound, cold laser, moist heat, ice, kinesio taping, weights, stretches, traction, vestibular goggles, overhead harness system for balance.