Concussion Management
FYZICAL Therapy & Balance Centers Concussion Program
Concussions can be complex and can influence many areas of life and activities from work, recreation, home life, to sports. Physical therapy can be very effective in treatment and help in management of multiple areas involved in concussion from fatigue, difficulty with physical activity, headaches, neck pain, oculomotor or eye activities and dizziness.
Symptoms of concussion can be quite varied, depending on the nature of your injury, as well as your age and gender. Some problems for which people seek physical therapy for concussions include:
Fatigue
Weight loss or weight gain
Ongoing headaches
Irritability· Difficulty with concentration and memory
Loss of balance and frequent falls
Dizziness and lowered blood pressure
Difficulty with reading/eye movement
Muscle weakness and spasms
Decreased activity tolerance and participation
Decreased endurance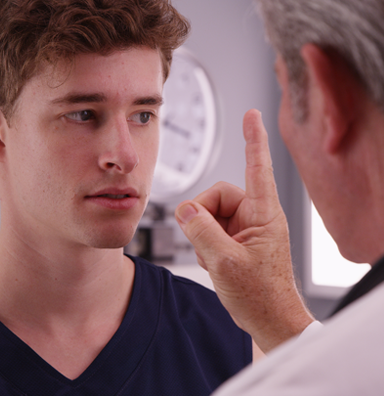 How can FYZICAL Therapy & Balance Centers Help?
After a concussion, the first 24-48 hours are often spent resting and recovering. However, after that time evidence supports what we call "active rest" in which steady return to daily, sport/recreational, and work related activities is recommended as symptoms allow. This is where physical therapy comes in. Your physical therapist will evaluate and assess all of the areas that may be involved in your unique situation, as every concussion is different. Your therapist will look at your eye motion, screen your memory/cognition, look at your neck, assess reaction time and tolerance to physical activity, and assess balance and create a plan of care that is specific to your needs. Furthermore, your therapist while work alongside you and your team of physicians and other healthcare providers to guide you back to your work, life, school and sport activities safely and efficiently.