A Guide to Rotator Cuff & Shoulder Pain Injuries
Shoulder pain can negatively impact your day-to-day life. Are you experiencing the following?
Muscle fatigue
Discomfort when your muscles are at rest
Failure to lift your arm
Numbness
Swelling
If you said yes to any of the above symptoms, we highly recommend that you get checked out by one of our physical therapists.
When you experience pain, your brain starts to adapt the way you move to relieve the pain in an incorrect way. You don't want that. One of our physical therapists can help to correct the root of your wrong movements and start moving your shoulder in the right way again.
Continue reading to learn about rotator cuff and shoulder pain and how FYZICAL can help you.
ROTATOR CUFF AND SHOULDER PAIN INJURIES
A rotator cuff is the group of muscles and tendons surrounding your shoulder joint. It keeps your upper arm bone secure within the shoulder socket.
The rotator cuff comprises of four tendons:
Supraspinatus
Infraspinatus
Teres minor
Subscapularis
Each tendon attaches a muscle of the same name to the scapula and the humerus. The tendons work in conjunction to stabilize the joint, rotate your shoulder and to lift your arm above the head.
CAUSES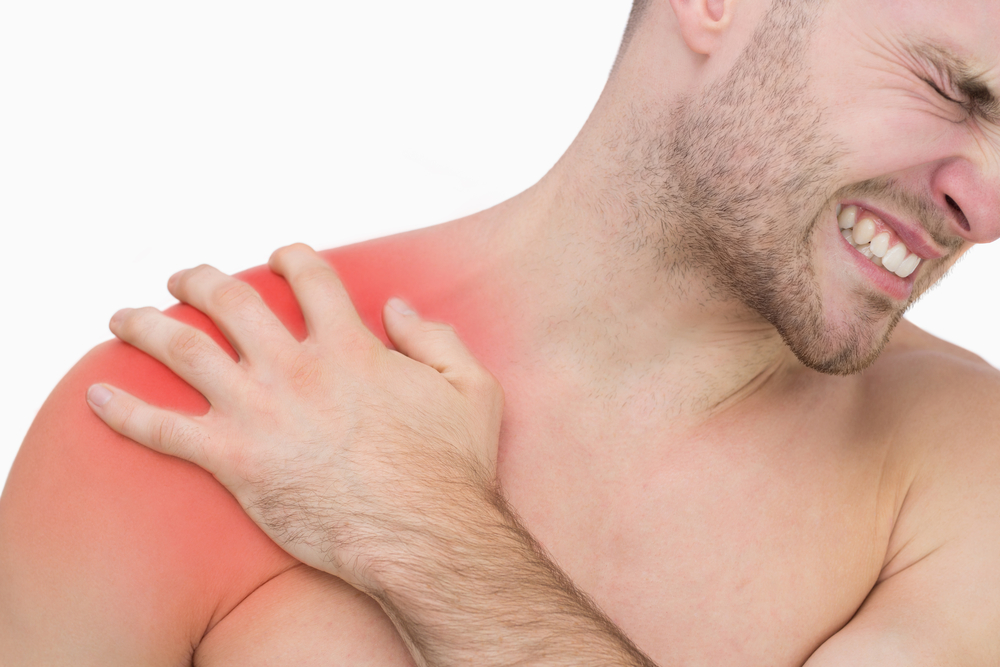 Rotator cuff injuries and shoulder pain can result from a previous injury to the shoulder or wear and tear of the tendon tissue. Typically, the most common cause of rotator cuff pain is repetitive activity over a prolonged amount of time that irritates or damages the tendon.
RISK FACTORS
It is essential to be mindful of the way you maneuver your body, especially if you partake in repetitive overhead movement. The following risk factors increase your chances of developing a rotator cuff injury or more significant shoulder pain:
Age: You are prone to damage as you get older. Rotator cuff tears are common among people older than 40 years of age.
Family history: Genetics play a role in rotator cuff injuries.
Sports: Athletes who regularly use repetitive arm motions have a higher risk of obtaining a rotator cuff injury.
Occupation: Occupations like carpentry require repetitive arm motions that can cause long-term rotator cuff damage.
FYZICAL'S SHOULDER PAIN WORKSHOPS
Are you suffering from shoulder pain? Please don't ignore it anymore and learn how to manage it. Our workshops can help you feel better, move better and live better. The FYZICAL team lends tips for natural healing without medications, injections and surgery.
Don't let your shoulder pain limit your quality of life. You can heal naturally with our help at FYZICAL.
At our workshop, you'll learn:
The biggest mistake causing shoulder pain
The three common causes of shoulder pain
Three strategies to reduce shoulder pain
Sign up for our next free Rotator Cuff and Shoulder Pain Workshop on Saturday, February 15, from 10-11 AM located at our Sabraton office. Click here for more information.
PREVENTION TIPS
There are steps you can take to prevent your shoulder pain from becoming a severe injury. Your physical therapists can help develop a personalized wellness and exercise plan. Check out these prevention tips:
Rest your shoulder
Apply ice and heat
Take pain relievers
Participate in at-home stretches
Engage in strengthening exercises
TREATMENT
Many people recover from rotator cuff injuries with physical therapy exercises, which further improve the flexibility and strength of your shoulder muscles.
Rest, ice and physical therapy are all you need to recover from a rotator cuff injury, depending on the severity of your pain. Additional treatment alternatives include injections and the possibility of surgery.
MAKE AN APPOINTMENT WITH FYZICAL TODAY FOR YOUR SHOULDER PAIN
FYZICAL provides physical therapy services to North Central West Virginia with the intent of transforming healthcare to focus on overall wellness. We are unlike any therapy clinic in the area. Our highly skilled and compassionate team is hyperfocused on achieving optimal health and wellness for you to get back to living a life you enjoy.
Ready to get rid of that pesky shoulder pain? Contact us today to schedule your appointment: (304) 906-7016.