Back Pain and Sciatica Workshop
Tuesday August 21st from 6:30-7:30pm
Location: Thiensville Health Alliance 136 N. Main St. #308 Thiensville WI
Free education presentation by Donald Olsen EdD, PT, OCS. Learn how to naturally treat back pain and sciatica without medications, injections, or surgeries. Seating is limited, please call to register (262) 478-0920
Running Workshop in partnership with Real Health and Fitness
Monday August 27th from 6:30-7:30pm
Location: W61 N513 Washington Ave Cedarburg WI
Do you run or jog or would you like to start this activity? Do you have pain while running or after completing a run? Do you want to prevent injuries from running? Do you want to improve your running performance? If you answered "yes" to any of these questions then this workshop may be for you! Attendees will receive a copy of "Top 10 Tip to Avoid Running Injuries and Maximize Performance." Call now to register (262) 478-0920
Event Photos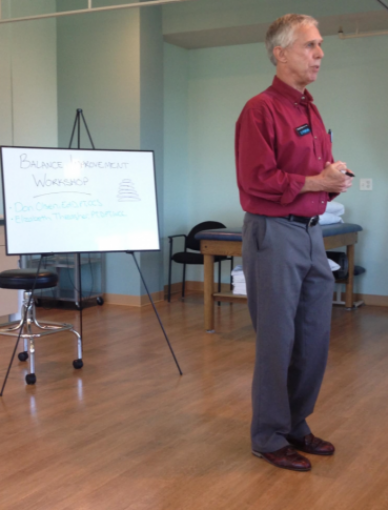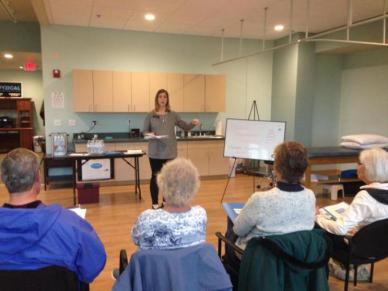 FYZICAL® WorkshopsPregnancy Workshop
Start the New Year with knowledge and join us for a talk on Pregnancy featuring Dr. Lauren Zokan of EPIC Family Chiropractic and Dr. Elizabeth Threasher of FYZICAL Therapy & Balance Centers Northshore!
Discussion will involve common conditions in pregnancy and advice on having your most healthy and comfortable pregnancy. Physical Therapist Elizabeth Threasher, PT, DPT, WCC, who is pregnant herself, will go over safe exercises to support a healthy pregnancy, and Chiropractor Lauren Zokan, D.C., will explain the Webster's Technique involving the positioning of the baby in the womb.
Low Leg Foot & Ankle Workshop
Discussion will involve walking mechanics and information on available surgical procedures. Holistic healing techniques such as manual therapy will be discussed; myofascial release vs. soft tissue mobilization, joint mobilization, and neuromuscular reeducation. Workshop includes our approach to footwear.
Back Pain: Stenosis and Sciatica Workshop
Address the problem of back pain and discover options to relieve pain naturally without medications, injections, or surgery so that you can Love Your Life!
What is the cause of my pain?
Do I need surgery?
I can relieve the pain with medications, but are there other alternatives?
What role does exercise play in resolving back pain?
Why is there pain in my leg?
What can I do at home to help my back pain?
How can I prevent my back pain from recurring?
What do Physical Therapists offer to help relieve my pain?
Balance Improvement Workshop
Take a stand to prevent older adult falls! Find out ways to discover if you may have a balance problem, and why you should act to improve your balance.
Have you lost your balance or have you fallen recently?
Do you often experience light-headedness or dizziness?
Are you taking more than 4 prescription medications?
Do you feel confident that you will not fall?
Do you regularly practice exercises to improve your balance?