Concussion Therapy
FYZICAL Therapy & Balance Centers Concussion Program
Physical therapy programs for concussion often build in vestibular therapy, which helps you orient yourself during periods of lightheadedness or loss of balance. Exercises such as fixing your gaze at a certain point in the distance, or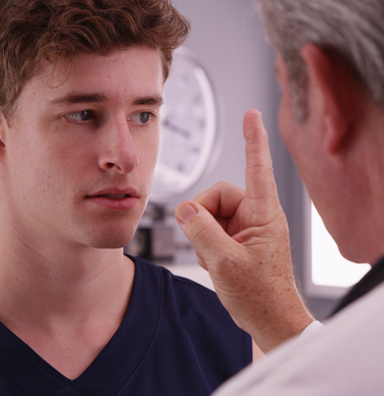 using simple movements to stabilize your core and limbs, are invaluable during such moments.
Symptoms of concussion can be quite varied, depending on the nature of your injury, as well as your age and gender. Some problems for which people seek physical therapy for concussions include:
Fatigue
Weight loss or weight gain
Ongoing headaches
Irritability
Loss of balance and frequent falls
Dizziness and lowered blood pressure
Muscle weakness and spasms
Decreased sex drive
Sudden loss of menstruation
How can FYZICAL Therapy & Balance Centers Help?
The natural fatigue and required resting that early concussion recovery entails often results in weakened muscles and lowered endurance. To combat that, your physical therapist at FYZICAL Therapy & Balance Centers will customize a strength-building program for you, as well as guide you through aerobic moves that help you regain that endurance.