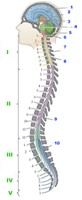 When you become a physical therapy patient, especially if your injury involves the lower limb, you will most likely hear the term PROPRIOCEPTION.In a nutshell, proprioception is your sense of position throughout your body.But, before we explore this exceptional phenomenon further, let me explain to you the "Nervous System 101": Your nervous system works similar to a phone system, but instead of people being at each end of the phone, there are receptors or "messengers" at each end communicating ...
Friends, family, and patients all ask me what to use on their aching back. What to use on their sprained knee. What to use after surgery and for how long, and how many times per day. In this article, I hope to shed a little light on these questions. The first thing we all need to understand is what heat and ice do to your body. Heat causes your blood vessels to dilate (get bigger) and cold packs cause your vessels to constrict(become narrower).Both heat and cold will relieve pain. This ...
While the ability to stand and function on two legs allows humans to excel at home, work, sport or play, it is also a set-up for failure at the foundation or hub of the body; the lower back. 1. POOR POSTURE- Whether you're sitting, standing or sleeping, poor posture can accelerate the rate of onset of Low Back Pain, and problems. Correct posture involves one that maintains the 3 normal curves of the spine. Flexibility and strengthening exercises can help you maintain your proper posture t...
A sprained ankle can happen very quickly and suddenly, when the foot is twisted or turned in unexpectedly. Ankle sprains are the most common foot injury and the most common orthopaedic injury seen by doctors. A sprained ankle can occur during an athletic event or just by a missed stepping on an uneven surface. The most common type of ankle sprain is when the ankle is turned inward or inverted. When this happens, the ligaments on the outside of the ankle that support and hold the joint tight, ar...
Certified Hand Therapist Anyone with an injury or disability wants the best rehabilitation to regain their lost function and return to productive living. The Certified Hand Therapist (CHT) credential offers assurance to the public that the therapist has achieved a high level of competency in the profession and attends continuing education seminars to stay current within the field of hand therapy. Certification is voluntary, available to...
ennis elbow can quickly bring your tennis game to a halt. While this injury is commonly found in tennis players, it can also be found in chefs, construction workers, and painters. The reason behind this is because the wrist is constantly shifting from a flexed forward position to an extended back position. The muscles in the forearm that work the wrist also connect into the outside of the elbow. When constantly being stretched and contracted the tendons in the elbow begin to wear and tear. This ...
Jessica, PTA, challenges Jason with sports agility in the clinic. Jason had an ACL reconstruction in April of this year.