Benefits of Treating Back Pain Without Medication
The National Institute of Neurological Disorders and Stroke (NINDS) states that low back pain is the most common cause of job-related disability, with 80 percent of Americans to experience it in their lifetime.
Low back pain is uncomfortable and sometimes debilitating. We're here to tell you that you don't have to live like that.
There are steps you can take to relieve your back pain, medication-free. Please continue reading to learn how FYZICAL can help reduce your pain and help you live your life to its fullest.
WHAT CAUSES LOW BACK PAIN?
The lower back includes five vertebrae in the lumbar region and supports the weight of the upper body. The spaces between the vertebrae are maintained intervertebral discs to protect your bones as the body moves.
Causes of low back pain can be triggered by:
Lifting a heavy object
Sedentary lifestyle
Sprains
Intervertebral disc degeneration
Traumatic injury
And more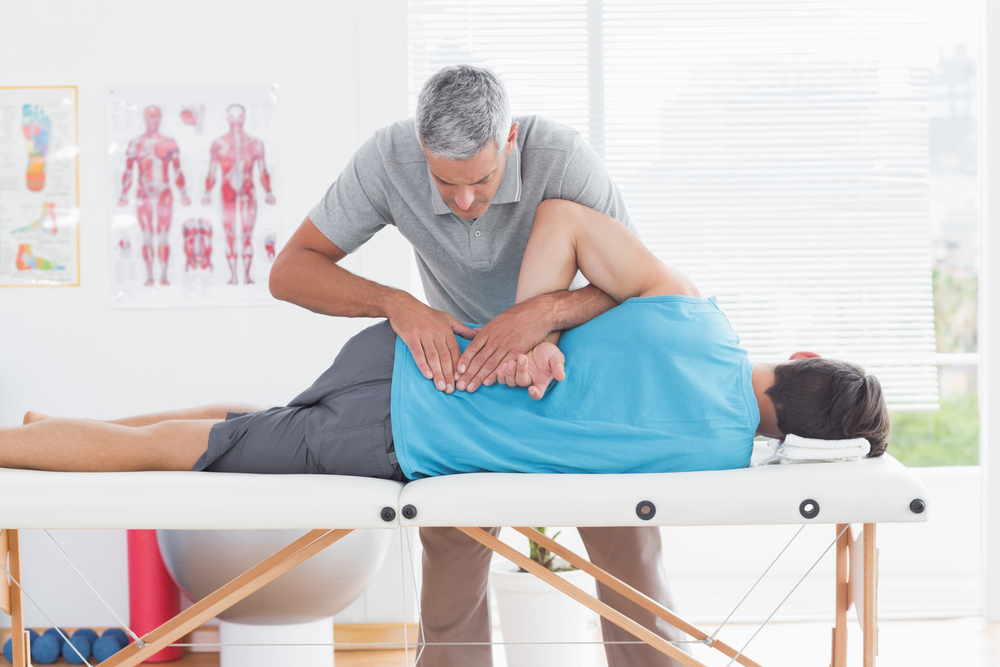 Symptoms
People with low back pain often experiencing the following symptoms:
Dull, constant ache
Sudden, sharp pain
Moments of incapacitation
BENEFITS OF TREATING BACK PAIN WITHOUT MEDICATION
Many people believe that their back pain can't be treated without medication, injections or surgery. We're here to tell you that is simply not true. You can overcome your back pain with physical therapy.
According to Spine Health, the goal of physical therapy for your low back pain is to decrease the pain while increasing your overall functionality. Benefits of physical therapy include:
Personalized Rehabilitation Plan
Your physical therapist will guide you through a customized program to further prevent future back problems and minimize any risk associated with developing back pain.
Corrects Posture
A better posture significantly improves your core. Your abdominal muscles provide strong support to the spine. The stronger your core muscles, the more stability and support your back will experience throughout your day-to-day life. In your customized plan, there will be exercises that work towards correcting your posture.
Strengthens Back Muscles
Similar concept as having strong abdominal muscles - stronger back muscles provide better stability and support for your entire back. This allows you to look better, feel better and move better. That is exactly what FYZICAL strives to do for every client who walks through our doors. In your customized plan, there will be exercises that work towards strengthening your back muscles. After all, a stronger back will alleviate the likelihood of getting injured easily - that's our goal!
Improves Flexibility
Stretching muscles, combined with routine exercise, maintains a reasonable range of motion while providing relief. It is recommended for low back pain clients to focus on stretching lower back muscles, core, hips and legs. In your customized plan, there will be exercises that work towards improving your flexibility with a stretching regimen.
Non-Invasive Techniques
Physical therapists utilize various methods and procedures for decreasing your back pain, from electrical stimulation, heat/ice packs to cupping and more. All methods used are intended to be low impact, low risk.
The FYZICAL Difference
Our highly professional and friendly environment is conducive to the optimum healing of body, mind and spirit. We utilize top-notch equipment to incorporate effective rehabilitation programs. With our help, we want you to feel the FYZICAL difference by getting back to doing the activities you love. Our inviting staff members are willing to help you at all times.
If you are experiencing back pain, give us a call today to schedule a free evaluation: 304-906-7016.
FYZICAL'S BACK PAIN WORKSHOPS
"There's NO magic formula to how much time your body will need to repair and heal itself on its own. YOU just need to take the first step to be able to LIVE life without pain," said Lincoln Kinkade, back pain and sciatica expert.
FYZICAL provides free local workshops in the North Central West Virginia area. Our workshops are great for you if you're experiencing lower back pain or sciatica.
Your lower back pain may be keeping you from living a life you deserve. Don't live in constant pain. If you are experiencing the following symptoms, this workshop is right for you:
Intense discomfort
Restrictive movements
Loss of strength from too much sitting, standing, walking
Struggle with carrying on all your other daily responsibilities
Our goal with this workshop is to guide you to:
Feel Better: The first thing we want to do is to understand where your pain is for us to create a plan to relieve you of pain.
Move Better: Here, we teach you how to move and avoid certain painful situations.
Live Better: In our final step, we are most interested in where you want to go with your life. In other words, we focus on your desires and all the things you want to do with your life.
Don't ignore your low back pain. Learn how to best take steps for treatment and prevention with our FYZICAL team. During this free workshop, you will learn the following:
Most significant back pain and sciatica mistake that stops you from healing
Three most common causes of low back pain and sciatica
How to pick the best treatment for your pain
How to adequately save your valued time and money
How your back causes pain, numbness, or tingling in your leg
Successful treatment and relief without the side effects of medication, injections or surgery
Our upcoming back pain workshops will take place:
To sign up for this event today, give us a call and reserve your spot: 304-906-7016