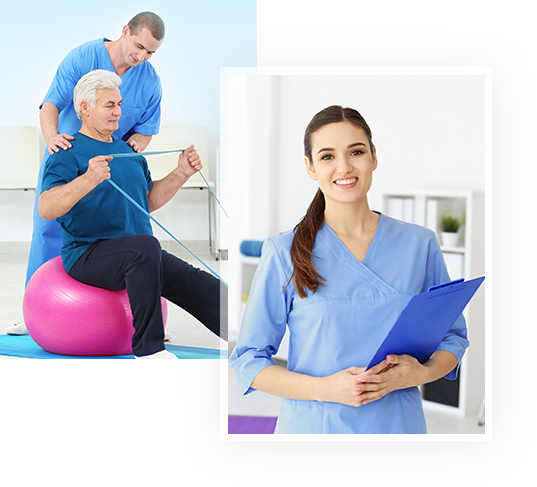 Welcome to FYZICAL North Andover
Are physical limitations or pain impacting your ability to move, function and enjoy life?
If so, it's time to GET FYZICAL!
FYZICAL Dizziness & Fall Prevention Centers in North Andover, MA is unlike any therapy center you've been to before. At FYZICAL, our highly skilled, compassionate team of physical therapists are 100% focused on achieving optimal health and wellness for you so you can get back to living the life you enjoy. Unlike other therapy centers, you will receive a specific program designed uniquely for you. NO 'one program fits all' here. There is NO other you!
At FYZICAL, not only will we fix what is broken, but through our comprehensive programs you will discover how to achieve the pinnacle of healthy living, expand your boundaries and feel better. At FYZICAL, you will receive hands-on therapy treatments by our friendly, caring health experts during focused and individualized sessions.
As one of the premier physical therapy centers, FYZICAL offers a multitude of physical therapy services including:
Balance & Vestibular Programs
Neurological Rehabilitation
Fitness & Wellness
Concussion
FYZICAL will help you get better and love your life again. Experience the FYZICAL difference today!
Outpatient Physical Therapy
FYZICAL in North Andover, MA is committed to providing a highly professional and healing environment while delivering therapy care that is aimed at relieving pain, improving strength, and enhancing mobility and function.
FYZICAL has state-of-the-art equipment including the Safety Overhead Support system. This system allows us to challenge our patients while eliminating the fear of falling. Our facility also utilizes NASA-level force plate technology to assess, train, and improve balance systems.
Evaluation
At FYZICAL, Our Doctors of Physical Therapy are fully qualified and highly specialized in evaluating and managing dizziness and imbalance in all age groups. We utilize state-of-the-art equipment including Computerized Dynamic Posturography to objectively measure balance and guide specific treatment plans. The results of the evaluation will indicate the frequency and length of recommended physical therapy treatment.
The evaluation is typically one hour long. During the evaluation our Doctors of Physical Therapy will look at the potential causes of dizziness, imbalance or mobility problems. They will assess walking, strength, endurance and balance.
Treatment
Physical therapy treatment will be individualized and targeted towards patient-specific impairments. It may include balance training, endurance training, core stability and strengthening, lower extremity strengthening, pain management, canalith repositioning maneuvers or visual training. What makes our clinic unique is our Safety Overhead Support (SOS) systems which allow our patients to be safely secured into a harness for their treatments. These SOS systems allow us to challenge our patients in a safe manner and eliminates the fear of falling.
Dizziness
Dizziness is a common symptom, affecting about 30% of people over the age of 65. Dizziness can be caused by a number of different conditions including Benign Paroxysmal Positional Vertigo, Peripheral Vestibular dysfunction, Neurological disorders, orthostatic hypotension, anxiety and migraines. Our Doctors of Physical Therapy will discern the cause of dizziness and treat it accordingly. The goal of treatment is eliminate dizziness in order to improve the quality of life of our clients.
Imbalance
One third of the population over the age of 65 falls each year. Balance and walking problems can result from orthopedic conditions, neurological disorders, or a number of injuries that involve the joints, muscles, and nerves. It is common that balance declines in older adults but falls are preventable! At FYZICAL, our Doctors of Physical Therapy will identify the cause of imbalance and target it with individualized, task-specific training in order to reduce the risk of falls and maximize balance.
Fall Risk
Every 11 seconds an older adult is treated in the emergency room for a fall. Falls can lead to fractures and a loss of independence. During the aging process the balance systems can get weaker which leads to imbalance and immobility. You may notice that you are not confident in your ability to maintain your balance with various activities of daily life. This reduction in confidence is directly correlated with increased risk for falls. Immobility leads to a more rapid loss of independence. Your Doctor may recognize certain signs or symptoms that make you susceptible to falling. It is important to recognize these signs early to focus on prevention because falls are preventable! Our Doctors of Physical Therapy will provide you with a comprehensive fall risk assessment and determine the cause of your imbalance. The goal of treatment will be to eliminate your fall risk and maximize your independence to allow you to continue to live a safe and active lifestyle. You will be given a comprehensive exercise program that will help you maintain your balance and mobility.
SCHEDULE AN APPOINTMENT
Concussion
Many concussions can result in dizziness and imbalance which can affect a persons ability to successfully return to school, work or sports. The good news is these symptoms of dizziness and imbalance caused by concussion respond well to skilled Physical Therapy treatment. At FYZICAL clinicians perform concussion baseline testing, post-injury testing and skilled physical therapy treatment to alleviate symptoms of dizziness and imbalance which can be common with Postconcussion Syndrome.
Musculoskeletal Conditions
At FYZICAL our Doctors of Physical Therapy also specialize in evaluating and treating musculoskeletal pain conditions including but not limited to arthritic pain, low back pain, neck pain, osteoarthritis, caring following total hip or knee replacement, ankle and foot pain. If you are living and pain it is time to give Physical Therapy a try. Call our clinic to inquire about other conditions we treat. Our goal is to reduce your pain and return you to the activities you love.
FYZICAL® Therapy Services