FYZICAL - Your choice for Physical Therapy in Oklahoma City.
Whether you have been sidelined by an injury, or have been idle too long, your team at FYZICAL is ready to get you back in the game again. From revitalization to rehabilitation, it's your turn to jump start the healthier lifestyle you deserve. FYZICAL has reset the standard in health and wellness, placing mind/body connections, as well as client treatment above all else. We invite you to connect with us and discover how physical therapy can empower you. Your health... Your choice
Here's how we get you feeling great again
We create your plan of care
Welcome to FYZICAL Oklahoma City
Oklahoma City
Leading the Future of Preventative Care
Are physical limitations or pain impacting your ability to move, function and enjoy life?
If so, it's time to GET FYZICAL!
Our Physical Therapy Clinic in Oklahoma City is unlike any physical therapy center you've been to before. At FYZICAL, our highly skilled, compassionate team of physical therapists are 100% focused on achieving optimal health and wellness for you, so you can get back to living the life you enjoy. Unlike other physical therapy clinics, you will receive a specific program designed uniquely for you. NO 'one program fits all' here. There is NO other you!
At FYZICAL, not only will we fix what is broken, but through our comprehensive programs you will discover how to achieve the pinnacle of healthy living, expand your boundaries, and feel better.
At FYZICAL, you will receive hands-on therapy treatments by our friendly, caring health experts during focused and individualized sessions.
Oklahoma City, If:
You're tired of living in pain
You just want to feel better and move better
You need to heal an orthopedic problem or sports injury
You want to overcome a balance disorder or neurological condition
You have been in an auto accident or injured on the job
You want to improve your strength, endurance and physical conditioning
You want to prevent injury
Then You're ready to Get FYZICAL!
Whatever ailment brings you to FYZICAL, our PTs can help decrease your pain, restore your mobility and ensure your independence! You may be able to avoid surgery or prescription medications!
FYZICAL will help you get better and love your life again. FYZICAL… Spelled Different Because We Are Different.
Download our free
e-Books
---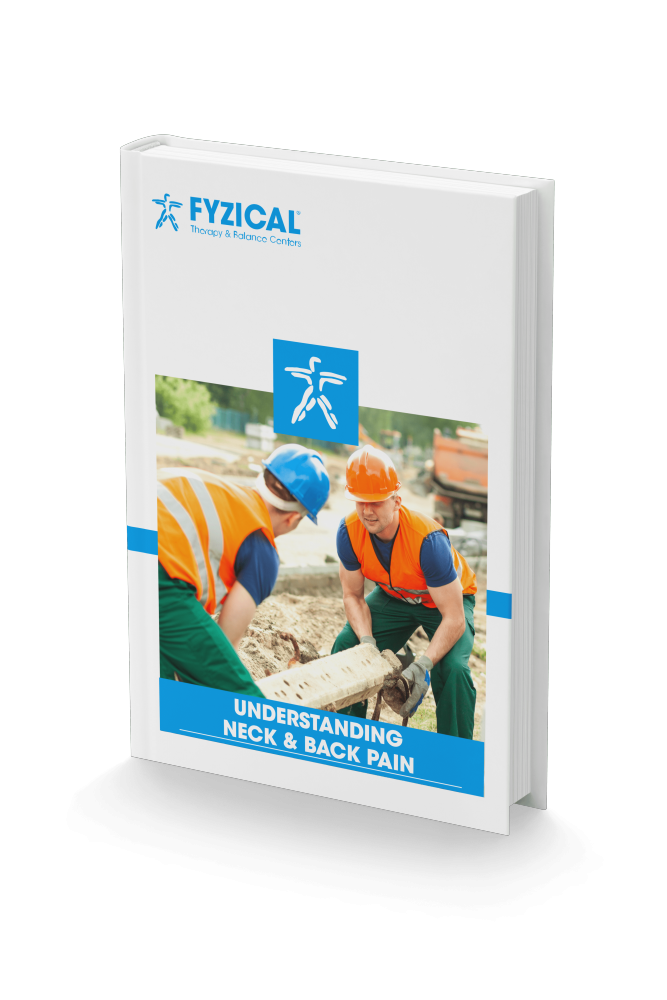 Back & Neck Pain
Ease back & neck pain without pain meds before it causes severe headaches.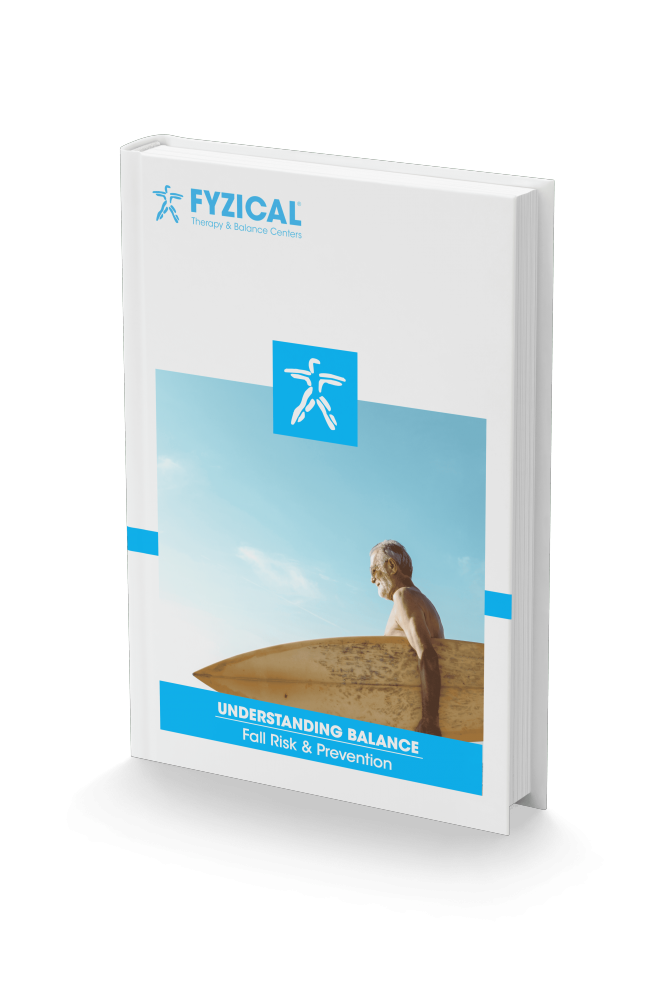 Fall Prevention
Improve balance and avoid falls without pain meds before it causes severe injuries.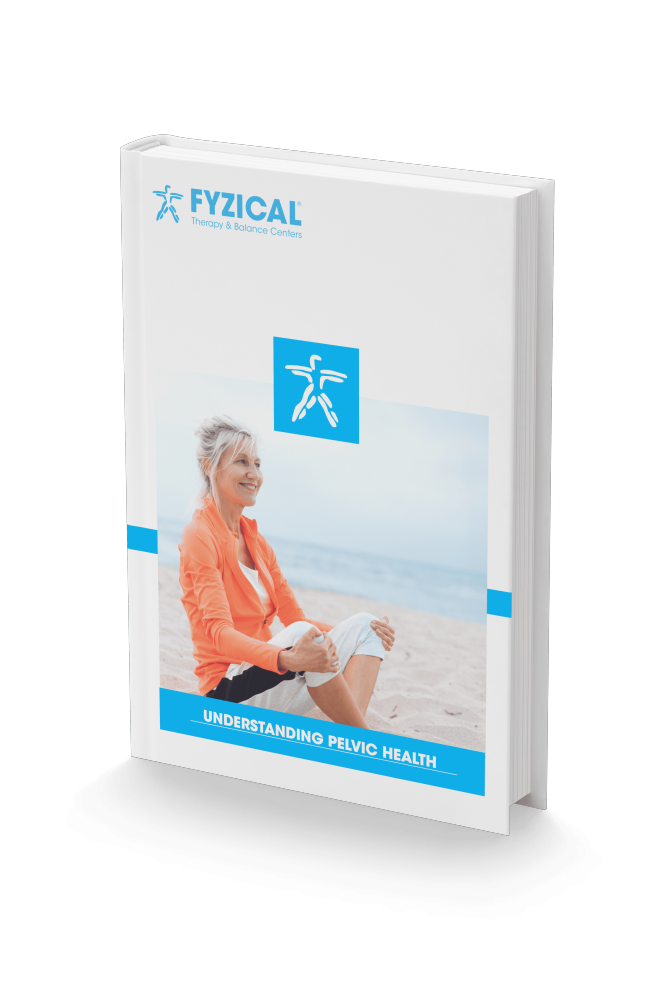 Pelvic Pain
Ease pelvic pain and incontinence without pain meds before it causes severe issues.
WHAT MAKES US DIFFERENT
Oklahoma Owned, Nationally Known
Nationally, the FYZICAL Family is made up of independent practice owners across the U.S. Locally, the FYZICAL Family is an Oklahoma family working to progress what Physical Therapists can do for Oklahoma City and beyond. Our local touch and our national reach define how FYZICAL Oklahoma City is unlike any other physical therapy clinic. FYZICAL's different can be summarized in three areas key to your success and well-being:
Clinical Expertise -

Beyond the standards of continuing education, FYZICAL remains at the forefront of keeping our physical therapists practicing with the latest research. We know this because FYZICAL and our team is generating the latest research in the treatment of balance and falls prevention. We are advancing our collective knowledge in pelvic health. And we are constantly refining our techniques for orthopedic rehabilitation. The FYZICAL Family also affords us 1000's of years of collective expertise to draw from to refine a plan of care suited to meet your unique needs.

Approach to Care -

Every physical therapist wants you at your optimal functioning. At FYZICAL, we understand that helping you to Love Your Life® starts with your evaluation. Whether it is differentiating the cause of your dizziness, identifying the muscle tone of your pelvic floor, or localizing your cause of injury, our physical therapists are going to pinpoint your deficits. An evidence-based plan of care tailored to your needs is the only way to optimize your health.

Technology -

FYZICAL Oklahoma City is committed to the best care possible, which means staying on the cutting edge of physical therapy technology. Technology isn't just about immersive virtual reality (for treating vertigo and imbalance), or biofeedback (for treating pelvic floor dysfunction), it's also about patient safety and achieving the best possible outcomes in the most efficient manner. That is why FYZICAL Oklahoma City has the only Safety Overhead System (SOS®) at an outpatient physical therapy clinic in Oklahoma City. It is also why we use our Juvent® micro-impact platform to accelerate bone growth for our patients with orthopedic injuries and osteoporosis. Our technology means better outcomes faster, and safely.
If you're ready to see the FYZICAL Difference for Yourself, schedule an evaluation today. FYZICAL… Spelled Different Because We Are Different.
Are you uncertain that Physical Therapy is the solution to your pain?
Setup a Free Phone Consultation with us and find an end to your problem!
Free phone Consultation
Hear what your neighbors have to say. . .
---