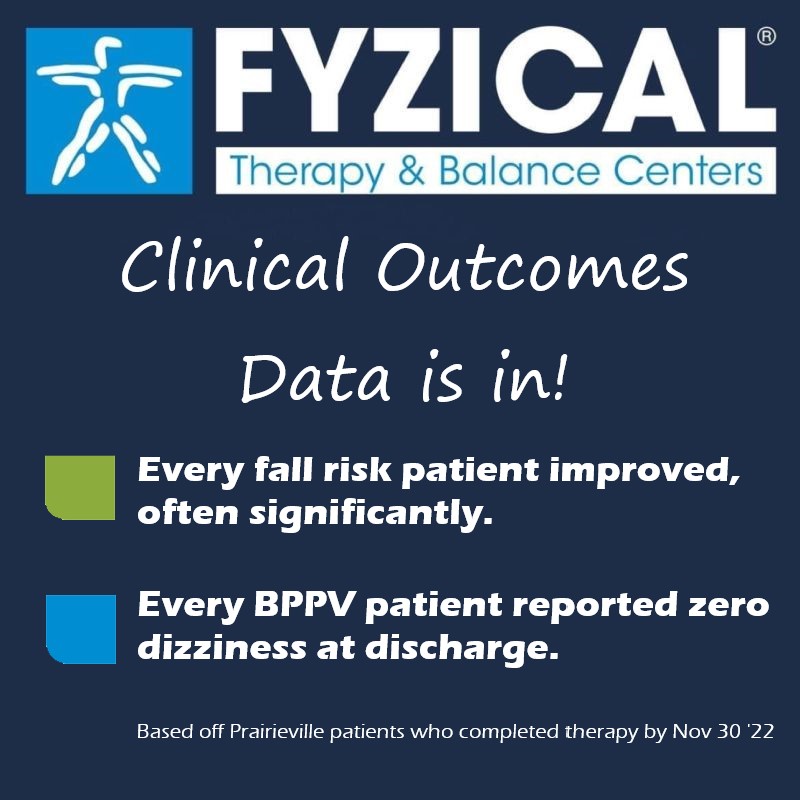 Welcome to Your Dizziness & Fall Risk Clinic
Many of our patients have long, frustrating, expensive journeys before reaching us. Many patients with vertigo see multiple specialists before getting treatment. Annual medical costs due to vestibular disorders are 2 to 8 times the actual cost of treating the underlying disorder. Meanwhile, your day to day life is impaired yet it seems like few people believe you, let alone help you. At FYZICAL Prairieville, our highly skilled, compassionate team of physical therapists are 100% focused on achieving optimal health and wellness for you so you can get back to living the life you enjoy.
Dizziness and balance disorders are common yet incredibly hard to diagnose. Symptoms include:
Falling
Unsteadiness
Nausea
Brain fog
Spinning sensations
Seeing spots (visual disturbances)
Many more, including variations on the above
Symptoms may be continuous or intermittent
We fully recognize the profound impact of these symptoms on your life. The impact may not be as immediate as a stroke or heart attack, but research increasingly highlights the health benefits of staying active. Vestibular symptoms stifle activities that keep you healthy and happy. Symptoms often worsen into falls and broken hips; health concerns highlighted in the CDC's STEADI campaign.
Why FYZICAL Therapy?
We specialize in treating dizziness and imbalance issues.
Our specialized equipment

protects you

during evaluation and therapy.
Our treatment framework really sets us apart:

we know just when

to use well-publicized techniques in your specific case.
We also have a national support system in place for really challenging problems.
With your permission, our therapists work as part of your overall care team, working with your other doctors and recommending additional specialties within your health system and insurance to get you the best possible care.
We appreciate you considering us and understand you may be concerned about getting your hopes up only to be let down again. Please take a look around our site, our resources, and call or set up an appointment when you are ready.
You will find information on vestibular and balance disorders, insurance coverage, and what to expect through therapy.
FYZICAL Prairieville will help you get better and help you Love Your Life! again
FYZICAL® Therapy Services