FYZICAL - Your choice for Physical Therapy in Tulsa, Glenpool & Owasso.
Whether you have been sidelined by an injury, or have been idle too long, your team at FYZICAL is ready to get you back in the game again. From revitalization to rehabilitation, it's your turn to jump start the healthier lifestyle you deserve. FYZICAL has reset the standard in health and wellness, placing mind/body connections, as well as client treatment above all else. We invite you to connect with us and discover how we can empower your health… your choice
Here's how we get you feeling great again
We create your plan of care
Welcome to FYZICAL Tulsa
Tulsa & Owasso
Leading the Future of Preventative Care
We are a medically based therapy and fitness organization. A new health age is upon us, one that requires an intense focus on the prevention of injury, disability and death. Whether musculoskeletal, balance, or vestibular in nature, FYZICAL leads the way! The advanced-trained therapists at FYZICAL Tulsa use world-class equipment and treatment programs to heal their clients, put the joy back in living, and prevent expensive injuries from happening. FYZICAL Tulsa, OK is located near Woodhill Hollow and Darlington South. Additional clinics in Northeast Oklahoma are conveniently located in Glenpool and Owasso.
Our Vision at FYZICAL is to challenge the status quo and change healthcare, change the profession of physical therapy and partner with individuals to change their lives through optimal health, wellness, and lifelong vitality.
FYZICAL is spelled different because we are different, come see us and let us help you get back to LOVING YOUR LIFE!
Download our free
e-Books
---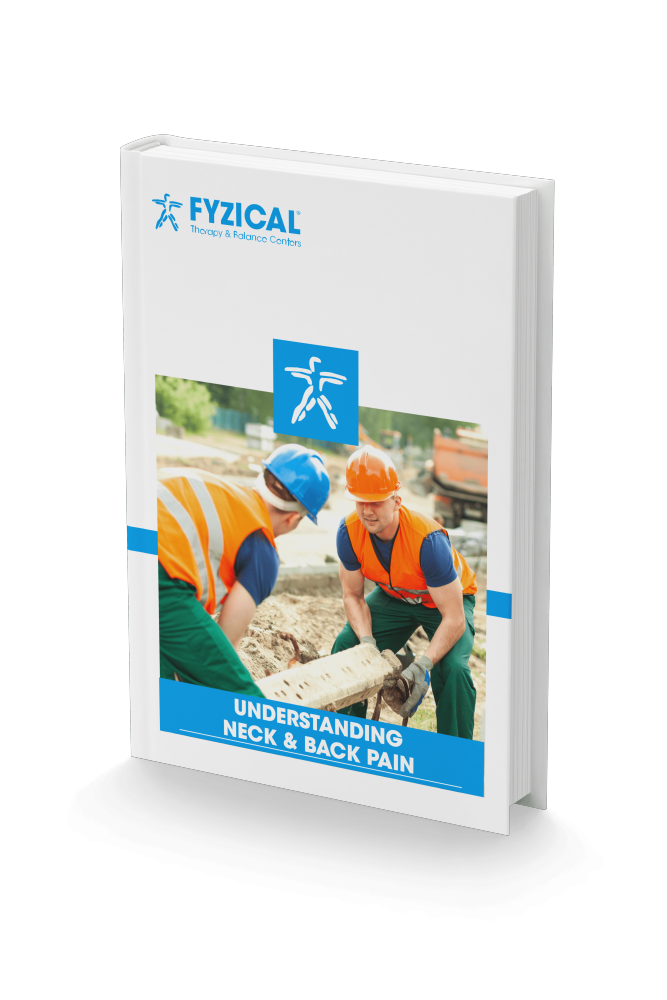 Neck Pain
Ease neck & upper back pain without pain meds before it causes severe headaches..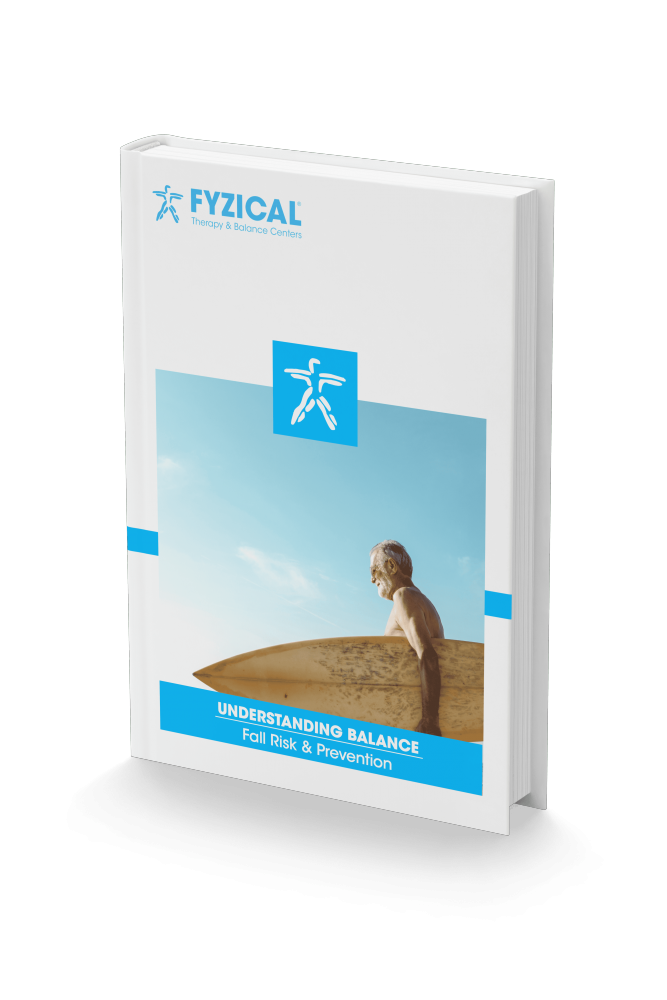 Balance
Prevent falls and balance issues without pain meds before it causes severe headaches.
FYZICAL - What makes us different?
INDIVIDUALIZED CARE -

Every new client completes a client needs survey that is shared with the physical therapist during your evaluation. Then jointly with the physical therapist individual goals are established for your treatment program to meet your identified needs. You do not have to fit into "our pre-established protocol, we tailor an individualized program to "fit your needs".

CLINICAL EXPERTISE -

Our clinicians have attained certifications of Balance Clinical Specialists, they are certified in Augmented Soft Tissue Mobilization "ASTYM" to address soft tissue scar adhesions, Certified Hand Therapist, David Spine program trained to address various spinal dysfunctions.

ADVANCED TECHNOLOGY -

Fyzical Tulsa/Owasso is committed to providing evidence based programs, utilizing the newest technology available to attain better outcomes faster. Technology like, David Spine Program for spinal dysfunctions, Bertec Computerized Dynamic Posturography and Virtualis virtual reality for balance disorders.
If you are ready to experience the FYZICAL difference yourself schedule an evaluation today by just clicking the box below.
Are you uncertain that Physical Therapy is the solution to your problem?
Setup a Free Phone Consultation with us and find an end to your problem!
Free phone Consultation