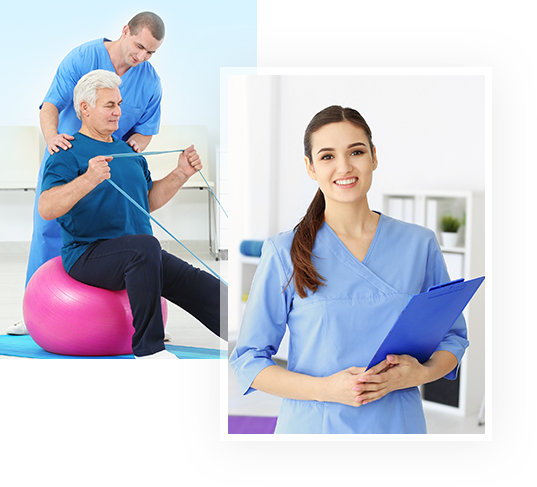 Welcome to FYZICAL Durham
SPECIAL UPDATE: April is Parkinson's Awareness month. At Fyzical Durham, one of our areas of specialty is in the treatment of patients with Parkinson's and/or Parkinsonisms. In this video feature, we celebrate the work that we're doing in this area and the contributions that we offer this community of patients in order to maximize and maintain their function. In addition to individualized physical therapy, we also offer a Parkinson's Cardio class that meets 3 times per week, both to enhance a patient's rehab and to maintain their improvement once they complete their rehab course. We are grateful to have a certified PWR! Specialist, Rebecca Bliss, DPT on our Team—check it out!
Parkinson's Awareness Month - Rebecca Bliss
And check out this feature of our cardio exercise class on Spectrum Local News!
Getting Physical: How a cardio exercise class is helping Parkinson's patients reclaim their lives
Are physical limitations or pain impacting your ability to move, function and enjoy life?
If so, it's time to GET FYZICAL!
FYZICAL Therapy & Balance Centers in Durham, NC is unlike any therapy clinic you've been to before. At Fyzical, our highly skilled, compassionate team of physical therapists are 100% focused on achieving optimal health and wellness for you so you can get back to living the life you enjoy. Unlike other therapy clinics, you will receive a specific program designed uniquely for you. NO 'one program fits all' here. There is NO other you!
At FYZICAL, not only will we fix what is broken, but through our comprehensive programs you will discover how to achieve the pinnacle of healthy living, expand your boundaries and feel better. At FYZICAL, you will receive hands-on therapy treatments by our friendly, caring health experts during focused and individualized sessions.
It's time to get FYZICAL if:
You're tired of living in pain
You just want to feel better and move better
You need to heal an orthopaedic problem or sports injury
You want to overcome a balance disorder or neurological condition
You have been in an auto accident or injured on the job
You want to improve your strength, endurance and physical conditioning
You want to prevent injury
Whatever ailment brings you to FYZICAL, our therapists can help decrease your pain, restore your mobility and ensure your independence! You may be able to avoid surgery or prescription medications!
FYZICAL will help you get better and love your life again. Experience the FYZICAL difference today!
FYZICAL® Therapy Services