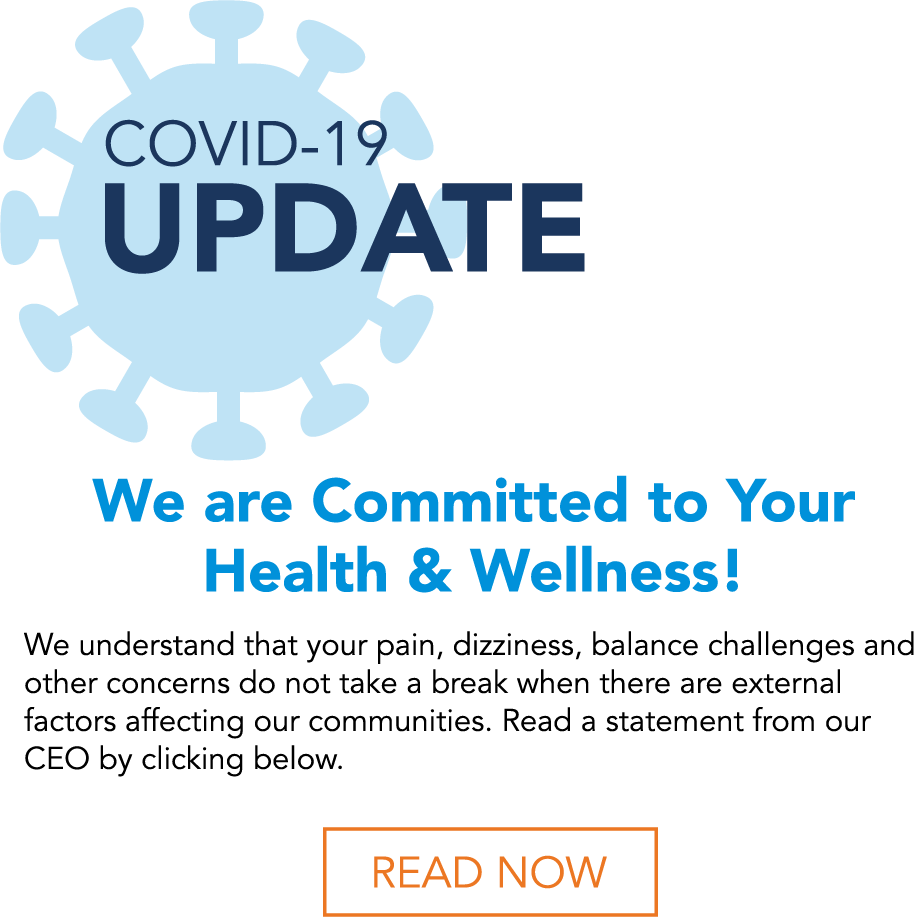 Welcome to FYZICAL Therapy & Balance Centers, Easley
When you step into our FYZICAL center, you will immediately notice a tracking system in the ceiling. If there is any reason to worry about a fall, you can rest assured that it won't happen here. We can harness our patients up like they are going rock climbing, attach the harness to the tracking system, and this Safety Overhead Support system will prevent falls and injuries. It is able to hold up to 650 lbs and is present throughout most of the gym to maximize safety with any walking or balance activity. This is the perfect set-up for those who have a fear of falling, are at risk of falling, or have gait disorders. It allows our patients to have more independence while effectively challenging their balance safely to their limits.
When you step into our FYZICAL center, you will quickly notice a very large dome in the corner. It is here that steps can be made to reduce motion sickness, visual sensitivity. It is here that your balance can be tested and your base of support challenged. This device, our Bertec, has awesome capabilities, giving us the ability to identify how our patients maintain their balance in multiple different situations, It compares them to average scores and lets us know where they are lacking so we can best and most quickly get you feeling steadier on your feet. This machine is a Computerized Dynamic Posturography machine very similar to the one designed to assess the balance of our astronauts before and after their return from outer space.
Only one patient is in the clinic at a time, so we are able to provide one-on-one patient care, so you get the attention you deserve. Our gym is small. While it is packed with needed equipment, it stays neat and uncluttered. It is a very peaceful place with colorful walls and comfortable chairs. You will be greeted by Sheri, our seasoned physical therapist with a vestibular specialty (balance or dizziness issues).
Because FYZICAL, Easley is inside an ENT's office with most of our patients suffering from dizziness or balance problems, we are able to do specialized ENT testing so we can get a much better idea of where the deficits lie and how to best help our patients. This makes the first day of therapy, the evaluation, take longer. Our patients are generally in our clinic for an hour and a half the first day, but only 45-60 min for every subsequent visit.
FYZICAL clinics are known for patient satisfaction. This is because we have treatment protocols based on research and clinical studies to give our patients the best and the fastest recovery! Sheri St. Clair is our physical therapist and has a FYZICAL Balance Certification. What does this mean? Vestibular therapy is a highly specialized field -- few therapists are educated in no more than the basics. At this facility, we have the educated and experienced staff. Our dizzy patients generally see our in-house ENT first before coming to PT. This allows us to do in-depth diagnostic testing to get to the source of the problem. It helps us answer the "why" questions: Why do I have dizziness or balance issues? Why do I walk into walls or feel wobbly on my feet? Why do I experience vertigo or nausea or any dizzy-related symptom for seconds vs. minutes, hours or days?
Whether the source of the problem is muscle weakness, stroke, BPPV's, inner ear disorders, eye motor issues, post-concussion, Meniere's, migraine-related, motion sickness, neuropathy, age-related factors, or a combination of these, this is the place to be. What do we do differently? Based on research and our unique standardized testing, we know the best process to progress our patients. Each exercise is intentional and sequential, suited to the patient's needs/symptoms.
Our clinic is located in our ENT office, Easley Head & Neck Surgery. Dr. Saccogna has been a staple in the Easley community for 20 years. All patients who present with dizziness must first see our physician or physician's assistant prior to PT to rule out medical issues, for proper diagnosis, and to prep our patients for the appropriate testing so we can get a full understanding of the presentation of symptoms.
Telehealth is available for physical therapy appointments. This is a great option for our patients who are not yet ready to risk exposure or have transportation issues or just have a hard time finding time to get out of work to come to therapy. You now have the option of having some of your therapy sessions right in your own home or office with real-time video conversations with the therapist on your computer.
What else makes us unique? Our time is spent with our patient with 1-on-1 treatment session for each visit, so our patients get the focus and attention they deserve. Our home exercise programs are usually very simple, progressive, and updated regularly and uniquely for you. One patient described it well: "I don't know why it's working, but it is!" We also have diagnostic equipment which helps us understand where the balance problems are (CDP) and how the inner ear and motor control of the eyes are working (VNG). See below under "Diagnostic Equipment" for details.
A Note From Our Physical Therapist
My name is Sheri St. Clair, and I have been the FYZICAL Therapist at this location for 3 1/2 years. I have been a Physical Therapist for 28 years and have been married for 25. Frank and I have four kids, a new son-in-law, and a dog named Willow. Most of the kids are college age right now. With so many kids so close in age, the house is getting emptier all too quickly. We raised our kids up in Michigan, where we had been living all our lives. We moved down to Powdersville, SC in 2016, where we have been enjoying the warmth and the beauty of the SC skies, mountains, and waterfalls ever since.
I have worked in a wide variety of settings, treating many different ailments and disabilities. I've spent years in orthopedics, years working with neuro/stroke/Parkinson's, and years working primarily with balance and vestibular patients. I have been certified at the highest training level to treat all BPPV's (inner-ear crystals) as well as any dizziness-related issue, including motion sickness. FYZICAL Therapy & Balance Centers are the known experts in the nation for this, and we follow their proven program/paradigm to get patients to feel steadier on their feet, and safer and more confident in their lives. I love treating neuro & stroke patients, and I love working with the senior community! My passion, though, is anything dizzy or balance-related, and we have the technology in this office to support my skills. Treating dizziness is considered highly specialized in the field of physical therapy, and I work with patients to be able to manage or get rid of it. It is only lightly touched on in schools, even at the doctorate level of physical therapy. I love to see the attitudes of hope and encouragement build up as my patients learn that, if they are consistent with the program, their feelings of unsuredness can really turn around to become feelings of confidence, well being, and hope! I am proud to work here, being able to provide the rehab that no other local physical therapy center can provide!
FYZICAL Therapy & Balance Centers is different than any therapy center you've been to before. While we treat some orthopedics, it is usually not the primary diagnosis we work on. At FYZICAL, we are 100% focused on achieving optimal health and wellness for you so you can get back to living the life you enjoy. FYZICAL will help you get better and love your life again. Experience the FYZICAL difference today!
Diagnostic Equipment
We have the only objectively-measured Bertec, Computerized Dynamic Posturography (CDP), in the upstate (possibly all of SC). It originated to assess balance of our astronauts before and after their trip to outer space! The results are calculated and help us understand how our patient uses each of their sensory systems (eys, ears, feet) to keep their balance. We begin and progress exercises based on these results. We are also able to do some carefully-graded exercises right in this machine that can be very effective for nausea or motion sickness.
We also have a Videonystagmography (VNG) machine, which helps us if the motor control of your eyes are contributing to or causing dizziness. It also helps identify BPPV's (crystals in the inner ear), where they are, and lets us know how your vestibular system (balance system) is working. By wearing goggles, the video of your eyes is seen on the computer and projected onto a big screen TV. This is an awesome resource for physical therapy, but is considered to be an otolaryngology test, so it can only be done after a visit with the ENT. The VNG is very helpful to determine if a BPPV is present and, if it is, which of the 6 canals it is in, which is critical to know in order to get rid of it.
Get to FYZICAL when:
You just want to feel better and move better
You want to overcome a balance disorder or other neurological condition
You've had a stroke or TIA
You have Parkinson's, encephalitis, ataxia, or any movement disorder
You want to decrease your fall risk
You want to get rid of vertigo or dizziness
You've had a concussion, recent or never recovered from one in the past
You are suffering from post-COVID symptoms
You've had a fall or are afraid of falling
FYZICAL, Easley is located in the office of Easley Head & Neck Surgery (an ENT office), which has an ENT (Phillip Saccogna, MD), a Physician's Assistant (Emily Hersel), an Audiologist (Alisa McMahon), an allergy department, and even a laser hair and tattoo removal office (Laser by Kristen). We are located right across from Baptist Easley Hospital, only 4-5 minutes from downtown Easley and Sam's Club in Easley. Our address is 115 Whitmire Rd, Easley, SC 29640, in Pickens County. Please feel free to call 864-855-2411 and ask to speak with me or email me at sheri.st.clair@fyzical.com.
FYZICAL® Therapy Services