In 2009, George Shirley founded Fast Track Physical Therapy and Sports Medicine. Nearly 10 years after opening the doors, and having a wonderful practice, Fast Track Physical Therapy and Sports Medicine has now rebranded to become FYZICAL Therapy and Balance Centers (Midvale). The clinic remains 100% locally owned and operated by Dr. George Shirley. This transition has offered an opportunity to add great new services like Concussion Testing/Rehabilitation and Vestibular Rehabilitation, as well as new equipment like: Class IV LightForce Laser, Safety Overhead Support (SOS)TM, Single Point Fixation (SPF)TM, FootMaxx Metascan for orthotics, Bertec force plate with COBALT, and more.
Originally, George opened Fast Track after working in different physical therapy clinics in the Salt Lake area. He was truly disappointed at the way he consistently saw physical therapy care being delivered. With every clinic that he worked in, the patient spent far more time with the support staff (aides, technicians, exercise physiologists, etc) than he/she did with the actual physical therapist. In all cases, the patient was paying for the care of the physical therapist, and receiving only a small portion of that time with the clinician. It was, and is, for this reason George stepped out on his own to open Fast Track, and now: FYZICAL Therapy and Balance Centers (Midvale).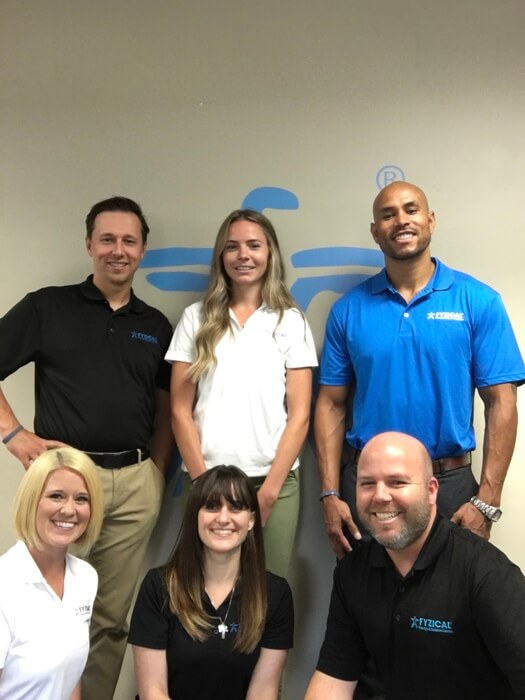 Our clinic wholeheartedly believes in providing the best quality of care imaginable, and we believe that is accomplished via our Doctoral-trained Physical Therapists from start to finish. This is the reason why we consistently get patients and clients better, quicker than our competitors – ultimately saving the patient/client money and valuable time. It is the reason we do not employ aides or technicians. We have made the purposeful decision to make it our clinic's priority to produce the highest quality of care versus trying to treat the highest volume of patients/clients. These are just a few things that set FYZICAL Therapy and Balance Centers (Midvale) apart from other physical therapy clinics.
You can find good physical therapists most places, and you can get good care at most clinics. However, if you are looking to make it back to the top of your game; get back to life as quickly as safely possible; ultimately save yourself health care dollars by requiring fewer total physical therapy visits – then FYZICAL Therapy and Balance Centers (Midvale) is the place for you. We specialize in treating high-level athletes, Vestibular "Dizziness" Rehabilitation, and Concussion Testing/Rehabilitation; however, we treat people from all walks of life and provide the same quality of care, and customized treatment for everyone.
Out of all of the things that make FYZICAL special, the most special thing about FYZICAL is the people. Each staff member truly cares about your needs and realize you likely do not feel your best if you are in need of our services – we have all been in that lobby seat ourselves. You will be met by a genuinely friendly smile each time you come to physical therapy, and you will leave with a smile – knowing you have made progress towards your goals. We love what we do and where we do it, so you will always find us engaged and ready to help you in any way possible – from our Client Care Specialists to the Doctoral-trained Physical Therapist that you will consistently meet with from start to finish of your treatment. This is why we include you, as patients and clients, in what makes FYZICAL so special. In the years that we have been open, there have been so many loyal friendships formed and that continues to be the case. Thank you for coming back when you need us, and sending your friends and family members here when physical therapy is appropriate. That is truly the highest compliment you can give us.