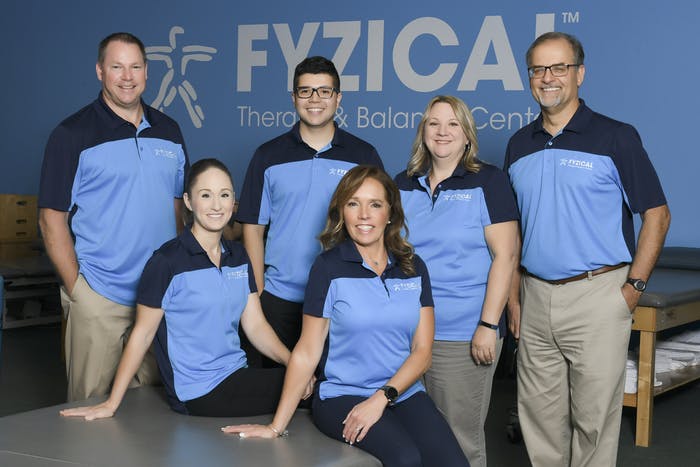 Welcome to FYZICAL Oak Lawn
Are physical limitations or pain impacting your ability to move, function and enjoy life?
If so, it's time to GET FYZICAL!
Located in the southwest suburbs, FYZICAL Oak Lawn combines a 20 year history with state-of-the-art technology and individualized care to provide patients with the best physical therapy services possible. We understand that you need experienced professionals that you can trust. That is what our practice is all about. We're your neighbors. We are dedicated to helping our patients restore physical function, regain painfree mobility and keep their good physical health.
This website gives you access to our facilites, including directions, hours of operation, payment policies, information about our physical therapists and our services, and even a link to request an appointment. It also includes a library of informative articles that describe the various diagnoses, treatments and technologies associated with physical therapy.
Our team of experienced staff and physical therapists look forward to helping you achieve a lifestyle of wellness and good physical health.
Mission Statement
FYZICAL Oak Lawn is dedicated toward providing exceptional rehabilitative physical therapy services to those in need of our assistance. Our staff is highly trained, being able to accommodate a variety of diagnoses including orthopedic, neurological, medical and pain management through a strong, comprehensive program of therapy.
Our mission remains directed toward being a vital medical care provider in the area. We abide by the philosophy of care which is rooted in the Code of Ethics and Practice Acts for physical therapy and observe the professional standards as set before us concerning evaluation, treatment and client education.
It is our intention as professionals of a medical entity, to have all clients return to the highest functional level possible, given each specific diagnosis which we treat. We strive to be educated on current techniques and trends in physical therapy so as to be up to date in our approach to rehabilitation. We thrive on knowing that our clients' physical and personal goals have been met, assimilating these into our own outcomes program which we evaluate on a regular basis. We appreciate the opportunity to serve the community in the healthcare industry.
It's time to get FYZICAL if:
You're tired of living in pain
You just want to feel better and move better
You need to heal an orthopaedic problem or sports injury
You want to overcome a balance disorder or neurological condition
You have been in an auto accident or injured on the job
You want to improve your strength, endurance and physical conditioning
You want to prevent injury
Whatever ailment brings you to FYZICAL, our therapists can help decrease your pain, restore your mobility and ensure your independence! You may be able to avoid surgery or prescription medications!
FYZICAL will help you get better and love your life again. Experience the FYZICAL difference today!


FYZICAL® Therapy Services