What Can Physical Therapy Do for the Post COVID-19 Patient?
Common Direct & Indirect Effects of Covid-19 Can be Improved with Physical Therapy
Whether your patients are deconditioned due to a positive diagnosis of COVID-19 or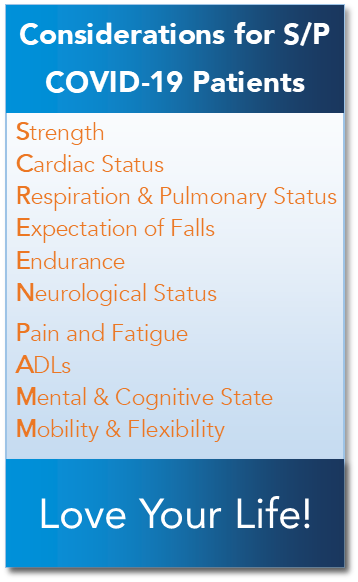 simply deconditioned because of having to shelter-in-place, Physical Therapy can help improve a variety of common symptoms and challenges people are facing after COVID-19. FYZICAL has developed a Patient Care Guide: Status Post COVID-19, to help our clinicians and our patients navigate the impact of respiratory illness and decreased mobility following Corona Virus.
For patients after Corona Virus, Physical Therapy treatment can help improve pain & fatigue, respiration & pulmonary status, cardiac status strength, endurance, mobility & flexibility. Physical Therapy will focus on improving functional outcomes for your patients including their ability to complete activities of daily living and prevent falls.
FYZICAL has identified 4 Patient Presentations that would benefit from Physical Therapy:
1. Hospitalized: Individuals who required mechanical ventilation
2. Diagnosed/Moderate: Individuals who didn't require mechanical ventilation
3. Vulnerable/At-Risk: Individuals with signs and symptoms but no positive test
4. Deconditioned: Individuals with functional loss and increased falls risk as a result of reduced activity
CALL us at (248) 682-3933 for more information or visit Post COVID-19 Symptom Screen/Screen PAMM to learn how to screen yourself.
Fyzical Therapy & Balance Center provides Physical Therapy for patients with Imbalance and Fall Risks, Neurological disorders, Orthopedic injuries, etc in Waterford, MI. Check out our Services tab for more therapy services offered.