Pediatric Center
Welcome to the new FYZICAL Pediatric of Cordele!
"Where every child dreams big, achieves the impossible, and shines their brightest - just as they were meant to!"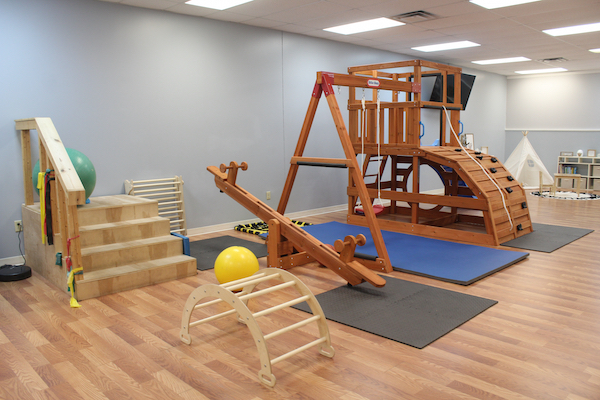 We saw a need for children local to Southwest Georgia to have a place fit specifically for their needs while attending therapy - so, we opened the Pediatric Center! Now, parents can find the treatment their children need much closer to home, in an environment made just for them.
When you have children, they become your everything. Seeing them in pain or unable to participate can be heartbreaking, and finding a solution may not be quick or easy. At Fyzical Pediatric Center, we create an encouraging environment for both child and parent to overcome any obstacles by providing one-on-one treatment and custom plans of care specific to your child. Your child is welcomed and loved at FYZICAL, and our therapists will walk alongside them as they recover and grow.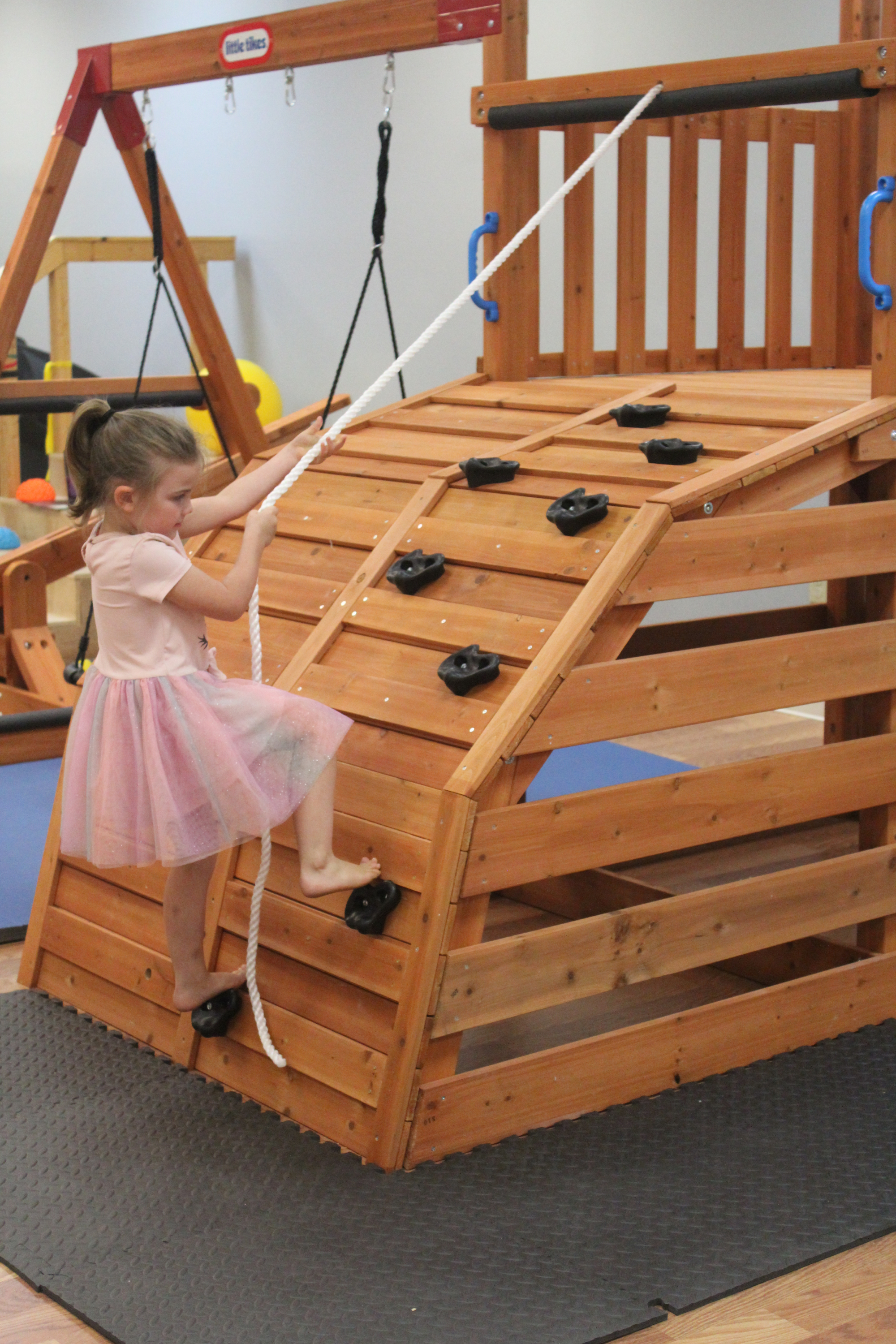 At our Pediatric Center, every child dreams big, achieves the impossible, and shines their brightest – just as they were meant to!
From a large open gym area for activity and play, to closed off treatment rooms for focus and quiet, there's a place for every child's unique treatment, diagnosis, personality, and dreams. Our Pediatric Center is equiped with the proper and necessary materials needed to help children succeed and grow during their therapy appointments - whether it's physical, speech or occupational.
Our speech, physical and occupational therapists are trained and educated in pediatric practices and work with children every day, with a combined experience of 74 years! That means your children and grandchildren are in good hands when they visit for their therapy appointments.
Why Does My Child Need Therapy?
It can sound scary, but therapy isn't scary – it's fun! In our new Pediatric Center with the jungle gym, swing and fun toys, therapy is exciting! Whether your child is attending physical, speech or occupational therapy, there's no need to worry about their referral. Your child may be injured, not reaching milestones, have a disorder, or need behavioral help. Either way, our Pediatric Center is a safe place that celebrates all children for who they are and encourages them to shine THEIR brightest!
Therapy is simply a way to open doors to continue the activities your child enjoys, and strengthen them to take on new challenges. Whether your child may is differently abled, isn't reaching milestones on time, or had a recent injury, our staff is here to create a unique treatment plan made just for them, so they can shine their brightest.
We Specialize In Treating:
Physical Therapy:
Orthopedic Rehab
Gross Motor Skills
Sports Injuries
Brain, nerve & spine disorders
Genetic disorders
Weakness and imbalances
Developmental Delays
Sprains, strains, fractures
Cancer
Chronic Pain
Scoliosis
Speech Therapy:
Speech Disorders
Language Disorders
Fluency Disorders
Swallowing Disorders
Feeding Disorders
Genetic Disorders
Autism Spectrum Disorder
Augmentative and alternative communication (AAC)
Occupational Therapy:
Sensory Processing
Behavioral Health
Social Skills
Gross/Fine Motor Skills
Visual Motor Integration
Self-Regulation
Autism
ADD & ADHD
Upper Extremity Injuries
Developmental Delays

What To Expect
Taking your child to a new clinic with new staff and treatment can be overwhelming, but we're here to calm the nerves.
After receiving a therapy referral, your child will attend an 'evaluation'. This allows the therapist to assess their current status in the areas of concern. This evaluation provides a baseline understanding for parents and therapists on what treatment your child needs.
Next, the therapist creates a plan of care for your child - frequency of appointments, goals to achieve, and treatment methods are all things your therapist will piece together and continue to tweak as they work with your child.
Depending on the cause of your child in therapy, they may be discharged! This means they have grown and achieved what they were referred to therapy for, and no longer need us. We'll be sad to see them leave, but so excited to celebrate their success!
Meet Our Staff!
Our Pediatric FYZICAL Therapists have combined experience of 74 years. Our therapists work alongside parents and family in an encouraging environment to help their children learn and grow. They provide skilled evaluation and treatment for children of all ages to help them achieve independent and functional mobility skills, and overcome new challenges! Our staff is excited to welcome your children into the clinic and provide on-on-one treatment unique to your child, their strengths, and their diagnosis. We love what we do! Come see what the FYZICAL difference is all about!
| | | |
| --- | --- | --- |
| Meet Krystal, our Pediatric Physical Therapist! Krystal moved to Cordele two years ago with her family and joined Fyzical. Krystal finds joy in empowering her patients to achieve challenges and participate in activities they might have stopped. | Meet Stephanie, one of our Pediatric Speech-Language Pathologists! Stephanie joined Fyzical in 2019, and also works with adult patients at our clinic on Greer. Stephanie loves working with children and establishing common ground with parents, as she is now a parent herself! | |
| Meet Kennedy, one of our Speech-Language Pathologists! Kennedy meets with pediatric patients after her day at Crisp County Schools at our Pediatric Center for Speech Therapy. Kennedy completed her education from Valdosta State University, and is contitnuing to further her education. | Meet Taylor, one of our Speech-Language Pathologists! Taylor meets with patients after her day at Crisp County Schools to help patients better communicate with Speech Therapy. Taylor sees both adult and pediatric patients, and is so versatile. Taylor is even married to one of our Physical Therapists, Jeffrey! | |
| Meet Brittany, our Pediatric Occupational Therapist Assistant! Half of the week, Brittany works with kids, and the other half she works with adults. She joined Fyzical in 2013 as a Rehab Tech, and began working full time in 2017. She loves spending time with her family, and helped make our Pediatric Center as great of an environment as it is today! | Meet Shelby, our new Occupational Therapist! She has been practicing for 4.5 years and has recently joined Fyzical to treat both pediatric and adult patients. Shelby loves working with patients of all ages to help them achieve their individual goals. Join us in welcoming Shelby! | |
| Katie is another one of our Speeceh Language Pathologists! Katie is from Cordele, GA. She attended Valdosta State University and obtained her Masters Degree in Communication Sciences and Disorders. She and her fiancé, Joey, have a cute basset hound named Shelby. Katie says, "I am excited to be a part of Fyzical and serve others!" | Laura Lyn is our Client Care Specialist, and makes sure all of our patients and families feel welcome the minute they walk in the door. While she answers the phones and handles a lot of paperwork, her heart for the kiddos shows in how she invitese them into the clinic. Her and her husband Bryant recently got married in May, and are enjoying the newlywed life! | |
---
Interested in Visiting?
Our Pediatric Center is here to help families take the leap of faith they need for their children to grow and be the best version of themselves. We are here to serve you and help you venture through this journey comfortably, and with support and encouragement from our team.
If you're interested in learning more about our Pediatric Center or think your child might benefit from our therapy services, give us a call at (229)207-4004, or speak to your doctor about a referral.