Telehealth Physical Therapy Session with Dr. Lauren Peterson of FYZICAL OKC.
What is Telehealth Physical Therapy?
Telehealth Physical Therapy uses technology to deliver an in-person experience at a distance. Telehealth Physical Therapy is comparable to out-patient physical therapy in both its delivery and the breadth of conditions that your physical therapist can treat (e.g., orthopedic conditions, vestibular dysfunction, pelvic floor dysfunction).
The goals of your Telehealth Physical Therapy Session are no different than those of any other outpatient physical therapy here at FYZICAL Therapy & Balance Centers of Oklahoma City:
Get you out of pain.

Improve your strength, flexibility, and range of motion.

Optimize your physical functioning.
Telehealth physical therapy focuses on patient-centered outcomes for those individuals who might be immunocompromised, have difficulty with travel, or who need the convenience of an appointment in the home or on the go. Telehealth PT is not so different from your standard outpatient Physical Therapy, visit except that you can enjoy the session from the comfort of your own home, in your office, or on-the-go.
Your physical therapist is an expert in movement and musculoskeletal dysfunction. They will guide you through stretching, exercises, and potentially modalities that can improve your overall physical well-being. The biggest limitations to maximizing outcomes with Telehealth Physical Therapy are the creativity of you and your therapist.
Telehealth physical therapy is going to require a slightly different focus during your physical therapy session. When you undergo a telehealth session for physical therapy, your physical therapist is not going to be able to lay their hands on you. Physical therapy is often focused on the use of manual therapy and the laying on of hands, when this is not possible you have to have a physical therapist who is an expert in treating your condition.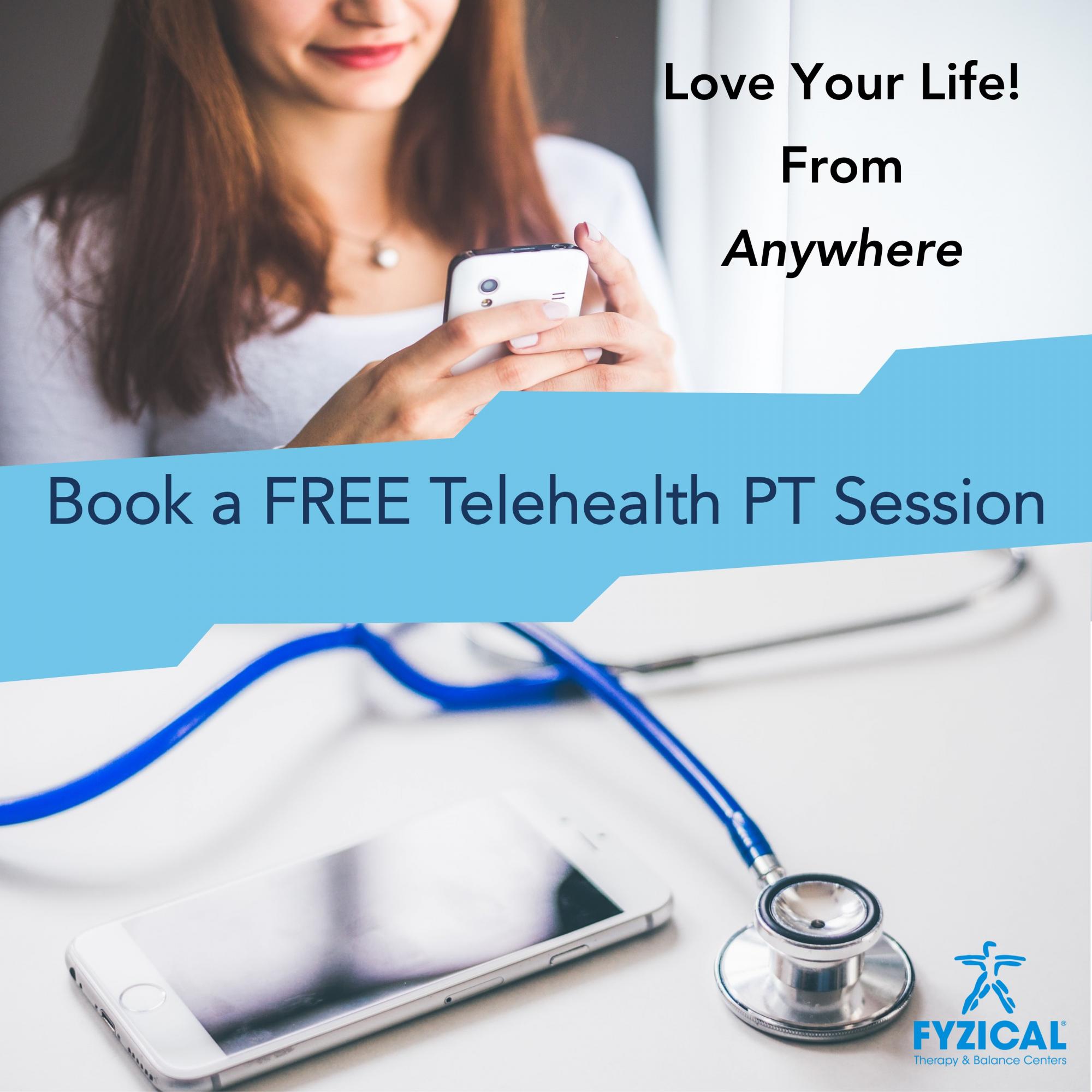 What do I need for a Telehealth Physical Therapy Session?
The most important piece of equipment for a Telehealth physical therapy session is YOU! But that's not any different than your standard Outpatient Physical Therapy appointment at our clinic in NW Oklahoma City. Platforms for the delivery of Telehealth physical therapy differ across providers. At FYZICAL Oklahoma City we use a secured, encrypted, real-time audio and video experience over an internet connection (Doxy.Me). So, for a Telehealth Physical Therapy session you will need an internet-enabled device.
For some of our patients, this connection is completed on their smartphone with a set of headphones, for others they prefer the larger screen of their tablet, and for still others the ability to navigate with their webcam on their laptop or desktop computer has presented the best experience. Our expert providers can help you navigate the technical decisions you may need to make to get the most out of your Telehealth Physical Therapy experience.
How is a Telehealth Physical Therapy Session Conducted?
There are a variety of Telehealth or teleconferencing platforms including Skype, FaceTime, and zoom. FYZICAL therapy and Balance Centers of Oklahoma City has chosen to use a platform called Doxy.Me. A secure, HIPAA-compliant platform that allows you to participate in a Telehealth Physical Therapy session in front of a computer, on a tablet, or even from your smartphone.
The actual Telehealth physical therapy session is going to be very similar to a standard physical therapy session. your physical therapist is going to ask you questions related to your goals, your current condition, any limitations you are currently facing that are preventing you from achieving your goals. A physical examination is obviously not going to be done in quite the same manner as an in-person evaluation. Manual muscle testing, for example, can't be done by a physical therapist restricting your movement. Instead vocal feedback about the movements that improve or worsen your pain or dysfunction will be necessary.
Is Telehealth Physical Therapy Effective?
Advances in Telehealth, and physical therapy in general, now allow us to deliver a safe and effective method of treating your pain, dizziness, or musculoskeletal dysfunction. In fact, Telehealth Physical Therapy has been shown to provide equal results for patients after stroke and very similar results diagnostically to those results observed in the standard outpatient clinical setting. Some patients do need a very hands-on approach to physical therapy, in those cases we recommend our patients consider our hybrid telehealth physical therapy model with occasional visits to the clinic in person.
Telehealth physical therapy has to be effective. Your physical therapist has to be a skilled practitioner to deliver your plan of care remotely. Additionally, because of rising healthcare costs many physical therapists have had to become experts at guiding their patients through completing a home exercise program. Telehealth physical therapy will incorporate a quality home exercise program with regular follow-up, so that you can get safe, efficient, and effective relief of your pain, dizziness, or dysfunction.
Examples of the Effectiveness of Telehealth Physical Therapy
Telehealth Physical Therapy was as effective as in-person physical therapy for improved upper extremity movement after stroke. (Post-Stoke Improvement of Motor Control)
Physical Therapy diagnoses in-person and via telehealth have been shown to be highly coordinated. (Diagnostic Agreement of PT Diagnoses)
Is Telehealth Physical Therapy Safe?
Yes. Telehealth is a safe and effective method of delivering your outpatient Physical Therapy needs. FYZICAL treats the safety of our patients as our number one concern. If you are already a patient, or have walked into our Clinic, you have seen our safety overhead system. You know that at FYZICAL, we pride ourselves on delivering the highest level of care in the safest possible manner. If we couldn't do this with Telehealth, we wouldn't have implemented it.
What About the Safety of My Personal Data (HIPAA Compliance)?
In order to provide Telehealth physical therapy to our patients, FYZICAL must abide by strict HIPAA compliance policies. We take your personal information seriously. This is why we use an encrypted, secure platform to deliver our Telehealth Physical Therapy sessions.
What Can a Physical Therapist Treat During a Telehealth Session?
A physical therapist treating through Telehealth is bound only by their creativity and the creativity of their patient. Certainly, the equipment available to a physical therapist in the clinic setting may not be readily available in a patient's home or office setting. In this case, we may lose some efficiency for the sake of convenience, but that doesn't mean that a patient cannot be treated much like they complete their home exercise program. FYZICAL Therapy & Balance Centers of Oklahoma City can ship equipment to our patients at a minimal cost.
What Conditions are Commonly Treated through a Telehealth Session?
During a physical therapy Telehealth session, a variety of common conditions can be treated including
Falls Prevention

Dizziness
In the event that your physical therapist is unable to identify the cause of your pain, dizziness, or dysfunction, FYZICAL Therapy & Balance Centers of Oklahoma City can offer our Telehealth Physical Therapy Hybrid Model.
Should I do Telehealth Physical Therapy?
This question is best answered one-on-one with your physical therapist. However, Telehealth Physical Therapy can provide you a high-quality, effective, and safe physical therapy experience. There are certain conditions that may best be served in person, but when you need an expert you need that expert available to you. Unfortunately sometimes the leading experts on pelvic health or balance and Falls prevention are not just around the corner. when this is the case, Telehealth physical therapy allows you to work with an expert on your pain, musculoskeletal dysfunction, or dizziness.
Are Telehealth Physical Therapy Sessions Covered by my Insurance?
This is a great question. Unfortunately, without verifying your personal benefits we're not sure. The good news is FYZICAL Oklahoma City is glad to do a free insurance verification check to find out. If your insurance carrier does not offer a Telehealth Physical Therapy benefit, that does not mean you are out of luck. You can speak with your policy provider to see if Telehealth can be added to your policy. Or we would be happy to speak with you about our alternative payment options.
What Paperwork do I need to fill out for a Telehealth Physical Therapy Session?
A Telehealth Physical Therapy session will not differ vastly from your traditional Outpatient physical therapy appointment when it comes to necessary paperwork. Your physical therapist is still going to want to know your medical history, the reason for your session today, and your goals for physical therapy. She will likely have you fill out an outcome measure that will enable her to judge your progress during physical therapy.
There are, however, a couple of things that will differ when it comes to paperwork for a Telehealth physical therapy session:
Consent to treatment via Telehealth

Acknowledgement of a private space to complete the session
Are there Restrictions on Telehealth Physical Therapy?
Physical Therapy provided through Telehealth has many of the same considerations a physical therapy in the outpatient setting. However, not all insurance plans will cover Telehealth physical therapy, or there may be reductions in the duration of care. Telehealth physical therapy is, however, covered under direct access laws of the state in which you live. In some instances Telehealth physical therapy may have to be paid out of pocket, but your best course of action is to check with your insurance carrier. If you have a plan through your employer that does not cover Telehealth Physical Therapy, you may want to speak with your human resources department about including it in your policy in the future.
I don't live in Oklahoma. Can I have Telehealth Physical Therapy Sessions?
This is another question we need more information about you before we can answer. Our providers will have to abide by both Oklahoma law and the laws related to physical therapy in the state in which you live. The good news is Oklahoma participates in the Physical Therapy Compact, which makes it easier for our providers to deliver care across state lines.
For More information on the Physical Therapy Compact, visit: http://ptcompact.org/ptc-states
Where Can I find Telehealth Physical Therapy Near Me?
The best part about Telehealth Physical Therapy is that it doesn't require the provider to be near you. you can find an expert on your condition who lives on the other side of the world and still receive top-notch physical therapy. We do, however, recognize that some patients may want to establish care with a face-to-face interaction. In that case,FYZICAL, is conveniently located in NW Oklahoma City. We are happy to set-up our hybrid Telehealth Physical Therapy model for you. Or you can try a FREE Telehealth Physical Therapy session before coming in.