Better Balance Classes
Are you concerned about your balance, or know someone who is?
Have you taken a fall in the past year?
Are you now less active, and concerned about your general strength and conditioning?
Learn and practice the skills you need to move confidently and safely around your home and community, all within the safety and comfort of your own space!

AND, your first 2 classes are FREE!
Our ONLINE classes are developed by our physical therapy staff, and instructed by physical therapists, experienced exercise specialists, and yoga therapy instructors.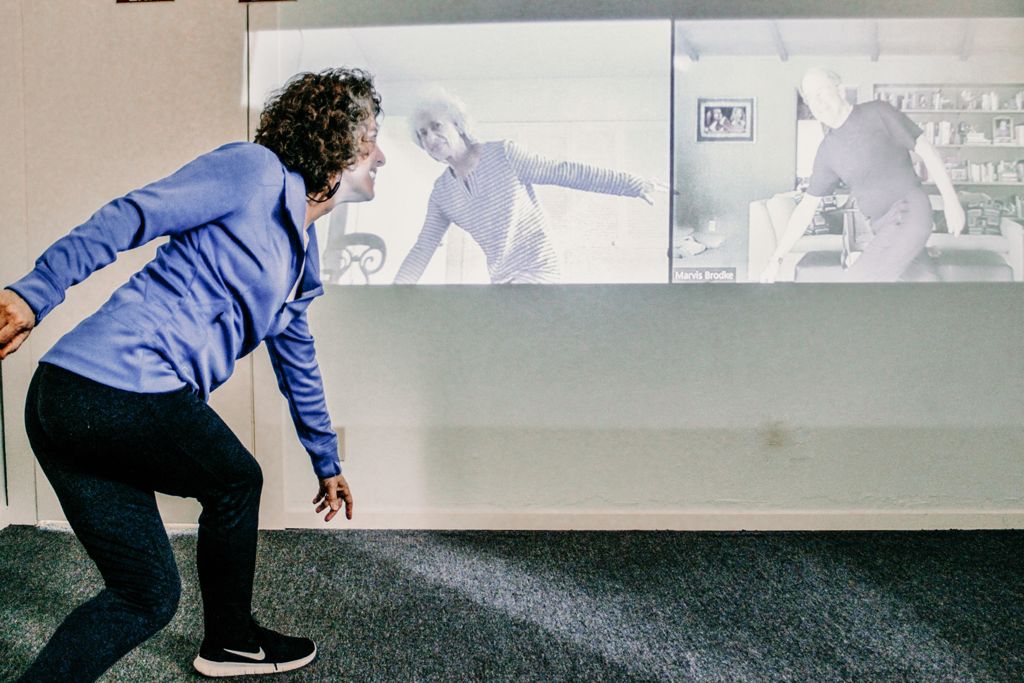 Our 2 levels of classes work on posture, awareness, strength, breath, and dynamic challenges. Expect to learn effective and creative exercises that lead to functional tasks that you may encounter every day. The only props needed are a chair for a hand hold and steady shoes on your feet. You can join or leave the balance classes at any time.
This is also a good exercise option for those who are looking for a lower-level and functionally-focussed general strength and conditioning class.
📢 Hear what class participants are saying about this class:
"The balance classes have significantly changed the quality of my life. As a senior and with other issues, I was facing a future of a fear of falling and some actual tumbles. Now I can confidently get through my days for I now have the skills to keep my core centered and also to recover when there is some type of unbalancing event, such as stepping on an uneven surface. So thank you for the gift of days with balance. Both literally and figuratively." - CK
"I love my balance class! I've had too many falls in my life, this class gives me confidence in my body. I feel stronger each week." - SG
"The Balance class has made subtle, important changes to how I move productively and safely. The movements we learn in class are relatable to everyday living. I am pleased with results and look forward to continued benefits." -SW
Schedule:
Basic Tues 10:15 am, Thurs 10:15 am
Basic Plus: Mon 10:15am and 1:15 pm, Wed 10:15am
Maximum class size 12
Cost: ( First 2 classes are FREE! )
1 class: $20
5-class pack: $85 ($17/class)
10-class pack: $160 ($16/class)
20-class pack: $300 ($15/class)
LEARN MORE, SEE THE SCHEDULE, SIGN UP and BOOK BALANCE CLASSES HERE - Click the top right SIGN UP button to register and get started. You are just a few short steps away from having Better Balance!
These are group training and fitness classes, and not considered physical therapy rehabilitation services. Participation in any class requires a signed waiver.
Interested in online classes but still have questions? Email us at grandlakeoakland@fyzical.com, or call us TODAY at (510) 893-8878 to find out more.